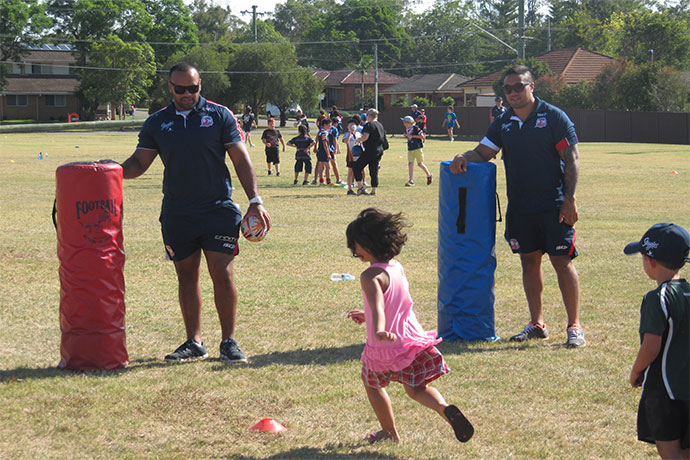 Some of the Sydney Roosters' biggest stars were in town last Friday for a juniors coaching clinic but there was one notable omission.

Ex-Penrith Panthers centre Michael Jennings didn't make the trip back home for the two-hour session held at Kingswood Sports Club, with Roosters officials deciding to let Jennings miss the event which attracted more than 130 local kids.
Other fan favourites that did attend the coaching and signing session included captain Anthony Minichiello, NSW Blues half Mitchell Pearce and new recruit James Maloney.
It's understood the Roosters had already per-determined their list for the Kingswood clinic before the former Panther signed, which essentially in the end allowed Jennings to avoid what could've been potentially a very awkward situation.
Instead the 24-year-old will attend further coaching clinics in other areas of Sydney during the rest of the pre-season.
One ex-Panther turned Rooster that did make the trip back out west was hooker Nafe Seluini.
Seluini departed the Panthers mid-way through last season to join the Roosters but still actually lives in the local area.
The 22-year-old said he loves having his former teammate in Jennings back alongside him again.
"It's pretty fun having Jenko around, he still lives out here as well, so he has to travel into the city too," Seluini said.
"He's been fitting in well at training and all the boys have made him feel welcome."
Seluini, who's currently serving his final year of his contract at the Bondi-based club, said he still catches up with some of his ex-Panther teammates from time to time.