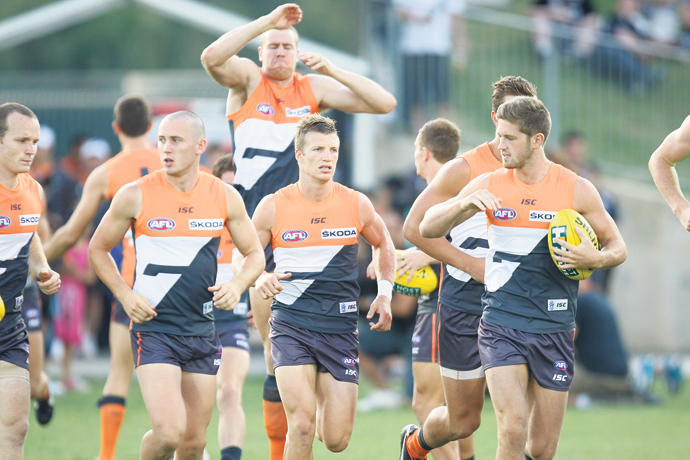 The Greater Western Sydney Giants have unveiled their player jumper numbers for the 2013 Toyota AFL Premiership Season.
After a standout debut season, 19 year-old midfielder Toby Greene will now wear the popular number 4 jumper, previously worn by Israel Folau in 2012.
Greene, who averaged 27 possessions in his 19 games in 2012, received a NAB AFL Rising Star nomination and was runner up in the inaugural Kevin Sheedy Medal.
Fellow midfielders Devon Smith and Taylor Adams will also wear new numbers in 2013 with the pair donning numbers 10 and 11 respectively.
Number 10 was previously worn by Dean Brogan who will now wear number 50. Number 11 was previously worn by Chad Cornes who will now wear number 53.
Number one draft pick Lachie Whitfield will follow in the footsteps of Giants Assistant Coach and inaugural Co-Captain Luke Power, wearing the number six jumper for the club.
Giants Head Coach Kevin Sheedy said it was important to reward younger players who had shown promise in the club's first year.
"We felt that the players who performed well for the club in their first year deserved the opportunity to pick up an earlier number if they wished," Sheedy said.
"We also obviously see Lachie Whitfield as a very talented young player and it's an honour for him to wear the number worn by Luke Power, who was such a great champion for more than 300 AFL games."
Sheedy said he looked forward to the day when AFL players' names were also on the back of their jumpers.
"This would be great for the fans, particularly in New South Wales and Queensland. It would be a very simple thing that would help promote the stars of our game," he said.
The number two draft pick Jono O'Rourke will wear the number 24 jumper, Lachie Plowman 30, Kristian Jaksch 34, Aidan Corr 35 and James Stewart 36.
Former Hawthorn premiership player Stephen Gilham will wear number 38 for the GIANTS and former Carlton defender Bret Thornton will wear 46.