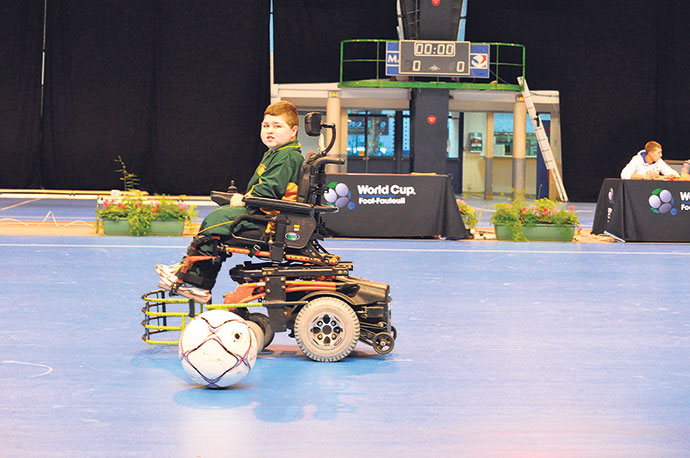 Erskine Park teenager Alex Scollard is thrilled to be representing Australia at next week's Asia Pacific Oceania (APO) 2013 Powerchair Football zone Championship.

The 16-year-old, who lives with Duchenne Muscular Dystrophy, will be competing against teams of athletes with disabilities in electric wheelchairs at Sydney Olympic Park Sports Centre for the title of best country in the APO region.
"I'm very excited to representing Australia next week in a sport that I love," Alex said.
"I'm looking forward to scoring goals, playing my best and spending time with my teammates as well as catching up with players from other countries."
However this isn't the first time the Year 11 student has flown the flag for Australia in the sport.
In 2011 Alex was part of the Australian Powerchair Football team that competed at the World Cup in Paris.
"It was a fantastic experience going to Paris but you didn't get to see much because you were mostly busy competing," Alex said.
"But it was an unbelievable moment, a very nervous experience, to be playing against other countries."
Australia will be competing against Singapore and Japan from January 23 to 26, with Japan flying in two teams to cement their claim as the powerhouse team in the APO zone.
"I think we have a good chance if we play as a team and work hard," Alex said.
Representing Australia on the world stage is a remarkable achievement for Alex who has only been playing the sport for two years.
"I chose Powerchair Football because it was a new sport that was growing and needed some young players to start playing, so I decided to go for it because it looked like fun," Alex said.
"I think spectators should come down and watch because it's as interesting as normal soccer and full of action."
The APO zone Championship is also a special opportunity for the Powerchair Football players like Alex as they will be representing Australia on Australia Day.