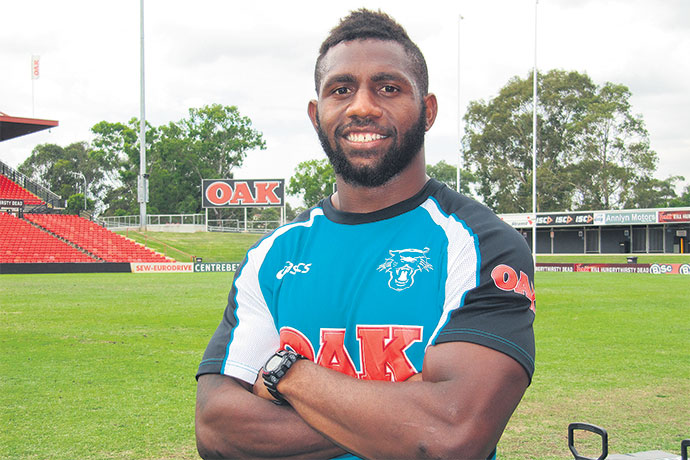 James Segeyaro has been voted in numerous rugby league fan polls as Penrith's number one buy for 2013, and the former North Queensland hooker declares he's going to do whatever he can to live up to that tag.

"It's a good feeling that the fans can't wait to have me, I can't wait to get out there. I'll be like the black panther – I reckon I'll look good in black," Segeyaro said.
"But you've also got blokes like Sika Manu and Dean Whare who are coming in who have also been in very successful teams, but I'll take that tag for sure."
The Papua New Guinean-born excitement machine played 33 games, mostly coming off the bench, in his two seasons with the North Queensland Cowboys.
Segeyaro said joining Penrith from the Townsville-based club was the best career decision he's ever made.
"I'm loving the new change and the new club, I'm fitting in really well with the boys and I couldn't be happier," he said.
"This club looks like it's going forward and that's what my manager and I talked about before coming here. I wanted to go somewhere where I could establish myself as a first-grader and I couldn't be happier. This was probably one of the best decisions I've ever made in my career."
One dilemma for Panthers coach Ivan Cleary is where to play Segeyaro but it's a predicament that has Panthers fans salivating.
Cleary has two hookers – one experienced and one on the rise – who will do battle for the hotly contested number nine jumper.
"I reckon the battle between Kevvy (Kingston) and I is going to be a good one but him and I are very different players," Segeyaro said.
"He'll obviously start and I'll come in, similar to how Aaron Payne and I worked at the Cowboys. Hopefully I'll get to stay on the field a bit more and play more of a utility role.
"It's good, friendly competition and that's what you need. There's plenty of competition for spots in the side already – battle for centres, wingers and second-rowers – just like with every pre-season everyone wants to gun for that round one spot."
After playing outside the world's best half in Johnathan Thurston for the majority of his young career, the 22-year-old said he can't wait to hit the field and learn from some of his newest teammates.
"I'm really excited about playing with Jenko (Michael Jennings), Walshy (Luke Walsh), Wes (Naiqama) and Newto (Clint Newton) – blokes who can make something out nothing," he said.