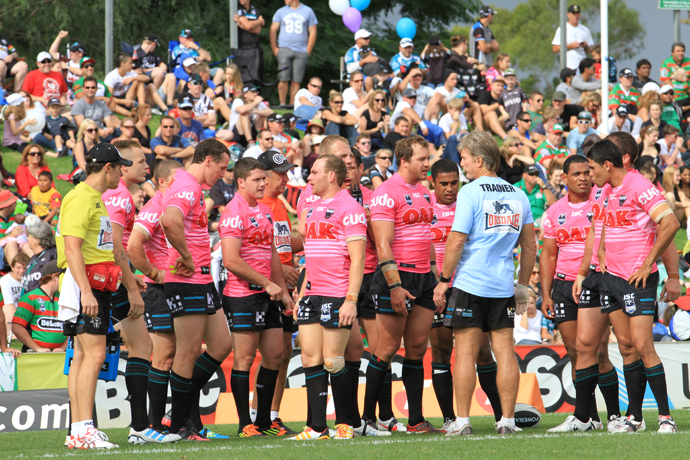 The NRL has released its 2013 draw.
Penrith will kick off its 2013 campaign against Canberra at Centrebet Stadium on Sunday, March 10.

Other confirmed home games:
Round 3: Panthers v Rabbitohs – March 24 at 3pm (Ch 9)
Round 4: Panthers v Titans – March 31 at 3pm (Ch 9)
Round 7: Panthers v Eels – April 29 at 7pm
Round 9: Panthers v Storm – May 12 at 6.30pm
Round 10: Panthers v Warriors – May 18 at 7.30pm
Round 13: Panthers v Tigers – June 9 at 3.00pm (Ch 9)
Round 16: Panthers v Dragons – June 29 at 7.30pm
Round 19: Panthers v Knights – July 21 at 2.00pm
Round 21: Panthers v Roosters – TBA
Round 22: Panthers v Cowboys – TBA
Round 24: Panthers v Broncos – TBA
Some fans will be disappointed that the blockbuster local derby between Penrith and Parramatta has been scheduled for a Monday night. The timeslot does not traditionally draw big crowds.
Luke Lewis and Michael Gordon won't return to Centrebet Stadium next year, with Penrith not scheduled to play Cronulla in Penrith.
Penrith's away games are:
Round 2: Panthers v Tigers – March 17 at 3.00pm, Campbelltown Stadium
Round 5: Cowboys v Panthers – April 6 at 6.30pm, Townsville Stadium
Round 6: Knights v Panthers – April 13 at 5.30pm, Hunter Stadium
Round 8: Roosters v Panthers – May 5 at 3.00pm, Sydney Football Stadium
Round 11: Dragons v Panthers – May 25 at 5.30pm, WIN Jubilee Oval
Round 14: Raiders v Panthers – June 15 at 5.30pm, Canberra Stadium
Round 17: Titans v Panthers – July 6 at 7.00pm, TIO Stadium
Round 18: Eels v Panthers – July 13 at 7.30pm, Parramatta Stadium
Round 20: Sharks v Panthers – July 28 at 2.00pm, Toyota Stadium
Round 23: Warriors V Panthers, Mt Smart Stadium
Round 25: Bulldogs v Panthers, ANZ Stadium
Round 26: Sea Eagles v Panthers, Brookvale Oval
Penrith will not play on a Friday night in the first 20 games of the season, with their only free-to-air television games scheduled for Sunday afternoons.
"This has been the most extensive draw process we have ever undertaken and the result is a great outcome for the game," said NRL Interim Chief Executive, Mr Shane Mattiske.
"Not only do fans now have certainty around when their team is playing but we have also managed to deliver a schedule of week in week out blockbuster games and new trial timeslots."
Over 31 weeks of the 2013 NRL Premiership, matches will be played across the country from the traditional home grounds and other capital cities including Darwin and Perth to regional areas including Mudgee and Mackay.
"In addition we have some of the season's key clashes in regional centres, as well as the inclusion of the NRL-free Representative Weekend and Good Friday afternoon match following their successful introduction this year," Mr Mattiske said.
"Special mention must go to the NRL's Shaun Wendt and Rick Stone from the Canadian company, Optical Planning Solutions, who worked tirelessly through what was an enormous logistical exercise involving a wide range of variables to produce such an exciting draw."
Among the many features and innovations are:
• 13 twilight Sunday night matches and four Thursday night games
• Matches scheduled for Perth (Rabbitohs v Warriors), Darwin (Titans v Panthers) and Mackay (Bulldogs v Knights) – all in Round 17 (July 5-8) – as well as a game in Mudgee (Eels v Titans, Round 11)
• The season-opening round on March 7 also featuring a Broncos v Sea Eagles clash which marks the 25th anniversary of their first premiership match
• A Good Friday afternoon game (March 29) between the Bulldogs and Rabbitohs as well as the Good Friday night game between the Broncos and Storm.
• Men of League Heritage Round (Round 6, April 12-14) featuring the Wests Tigers v Dragons match which marks the 50th anniversary of the trophy photo (Norm Provan and Arthur Summons); and the Manly v Sharks clash which is the 40th anniversary of the 1973 Grand Final and 30th anniversary of the 1983 KB Cup Final
• An NRL-free Representative Weekend (April 19-21) featuring the Australia v NZ Test in Canberra and Country v City Origin in Coffs Harbour
• An Anzac Day double (Thursday, April 25) featuring the Roosters and the Dragons in Sydney and the Storm against the Warriors in Melbourne
• The 'Pink V' Dragons hosting the Eels during the Harvey Norman Women In League Round which will be played earlier in Round 10 (May 17-20)
• Origin matches in Sydney (June 5 and July 17) and Brisbane (June 26)
• Rivalry Round (Round 20, July 26-29) kicking off with the Cowboys v Broncos in Townsville and Bulldogs v Eels at ANZ Stadium.