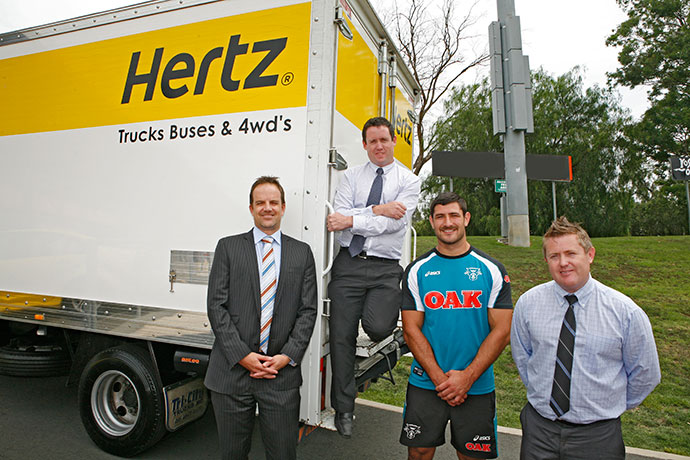 The Penrith Panthers have announced major vehicle rental company Hertz as their new sleeve sponsor for the 2013 and 2014 NRL seasons as the club's new management continues to form key partnerships for the future.

Hertz has been a local sponsor of the Panthers since 2001 and were keen to increase their exposure with the club next season and beyond.
"Being a local operator it's fantastic for our business but also too for the other Hertz operators around the country," said Managing Director of Hertz Penrith, Craig Thompson.
"To be able to partner with the NRL, which is a national competition, benefits not only us locally but the whole existing Hertz network."
Head of Business Development for the Panthers Group, Justin Pascoe, said the partnership with Hertz is an exciting one.
"It's very exciting because we're trying to extend our brand, Panthers, onto a national platform and partnering with Hertz, which is a global brand, gives us a scope to leverage their brand as it does ours," he said.
"Hertz started locally and one of the challenges of trying to create a national brand is trying to keep the identity of where the brand originated from, which was the Penrith area."
Mr Pascoe said he was excited about future partnerships the Panthers would form in the coming seasons.
"Our strategy moving forward over the next few years would be to continue to develop partners of this type of stature," Mr Pascoe said.
Panthers and New Zealand prop Sam McKendry will represent the club as the ambassador for the growing partnership and will receive a rental car as part of the deal.
"It's really exciting to be the face of Hertz," McKendry said. "I'm not sure what car I'm getting, maybe a station wagon, I'm happy with anything really. I've asked the club for a petrol card to go along with it but so far no luck," he joked.