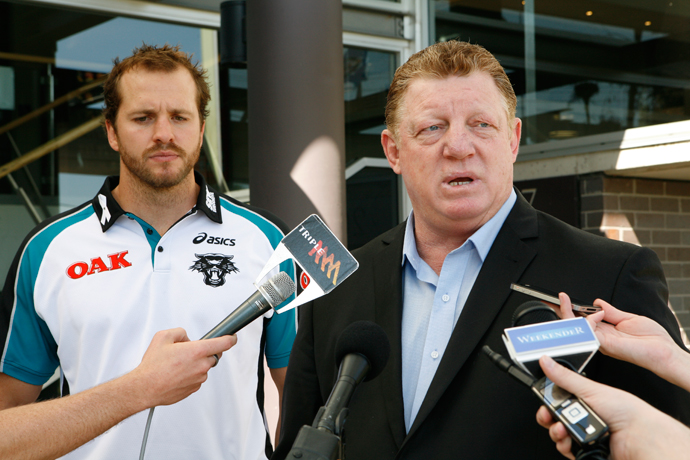 Four of Penrith's biggest names have been told to take a pay cut or they could be forced out the door in a dramatic development at the foot of the Mountains.

According to The Sunday Telegraph, Panthers boss Phil Gould summoned Michael Jennings, Tim Grant, Lachlan Coote and Sam McKendry to a meeting, where he explained details of the club's salary cap crisis.
All four have a clause in their contract that allows them to earn a percentage of any increase in the NRL's salary cap.
The Telegraph reports that Gould told Jennings, Grant, Coote and McKendry that one of them may have to leave the club if the clauses are not removed.
All four players have so far refused to remove the clause.
The meeting between Gould and the key players is no surprise, nor is the salary cap drama. Jennings, Grant, Coote and McKendry have been labelled "the big four" by some because of their confusing, high-paying contracts. It has been known for some time that one of the "big four" would most likely be forced out of the club in 2014. Gould is now clearly trying to avoid that happening by asking for the players' support on a pay cut.
The future of Michael Jennings at the club has been a discussion point for the best part of a year, and it is known that at least two clubs remain interested in his signature. He has already rejected an offer from St George-Illawarra.
Penrith would most likely want to do all they can to keep Grant, as he is a solid performer off the field as well as on it and is highly likely to be either the club's captain, or part of a leadership group, next season.
Coote is a Penrith junior and the club would hate to lose him but he too fell out of favour during 2012, at one stage being dropped to the NSW Cup before earning a last minute reprieve.
With the future of four star players in the balance, it appears a trouble-free off-season is unlikely at Penrith.