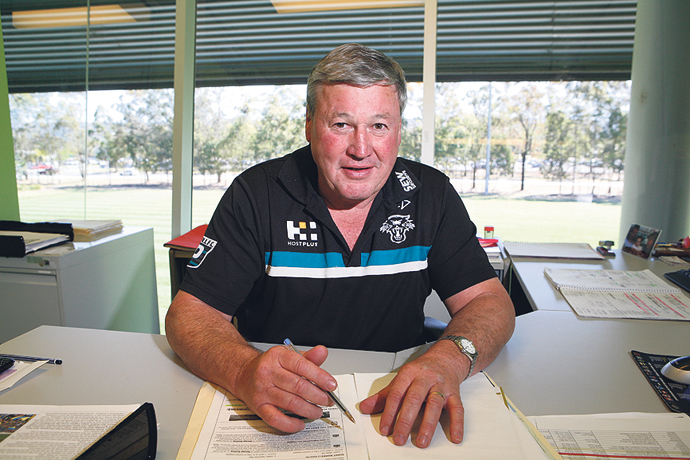 Over his 20 year career he's recruited some of rugby league's biggest names but even Penrith Panthers Recruitment Manager, Jim Jones, admits he's let some beauties get away.

Last week at Penrith's end of year presentation night Jones walked away with the club's prestigious Clubman of the Year award, after his many years of dedicated service at the foot of the Mountains.
"It was a bit of a shock actually, I wish someone had whispered in my ear earlier so I could've prepared a speech and thank my beautiful wife Mary," Jones said.
"It was a very humbling experience to be held at such high esteem like previous recipients of the award – Petero Civoniceva, Royce Simmons and John Cartwright."
Jones began his career at the Panthers in the 1980's as a player lining up alongside former Penrith legends Phil Gould, Darryl Brohman, Royce Simmons and Tim Sheens in the 'chocolate solider' strip.
"I was scouted by the late Mick Kelly in the 1980's and played a combined 46 first grade games with Penrith and Canberra," Jones said.
"I really appreciate what Penrith has done for me over the years and this is my way of repaying them through my current position now."
Jones began his career as a rugby league talent scout at the Panthers in 1990 courtesy of then coach and now current boss Phil Gould.
Gould convinced his old friend to leave his job as paid landscaper and join him at the Panthers as a recruitment officer. Over the years Jones' eyes have seen thousands upon thousands of young kids playing league at local and interstate carnivals in the hopes that one day they will join the big time and become professional.
Jones is the man responsible for making many kids' dreams a reality. His most notable acquisitions include former stars Matt Sing, Brett Mullins, Craig Gower, Tony Puletua and Luke Rooney as well as a huge number from the NRL's current crop including Luke Lewis, Frank Pritchard, Steve Turner, George Rose and Ben Pomeroy.
"You get a sense of satisfaction when you see players you've found go on to big things," Jones said.
Unfortunately for Jones and Penrith there have been some superstars that have slipped through the cracks for one reason or another.
"Back in the early 90's I went to a league competition in Queensland and Gus asked me to find a big winger. There were two big ones there on the day, both tall and dark," Jones said.
"I told Gus I found two blokes who had skill but he said we could only afford one. So I brought a kid called Butch Fatnowna back to Penrith and the other guy was Wendell Sailor.
"But that's why Gus is good to work with because his attitude is you won't get them all right."
Jones believes finding players in this current era is even more competitive with the amount of recruitment managers at junior league games outweighing the spectators. Fortunately for Jones he has a secret weapon in his holster.
"I take Gus out with me, he wants to come," he said.
"Gus is a really good talker and parents feel comfortable when he tells them we're (Panthers) going to look after their young bloke.
"When scouting a young player you have to do your homework, they have to have a really good attitude. There are a lot of brilliant players out there but it's not very often you can turn them around… they have to work hard, train really hard, they have to want it."