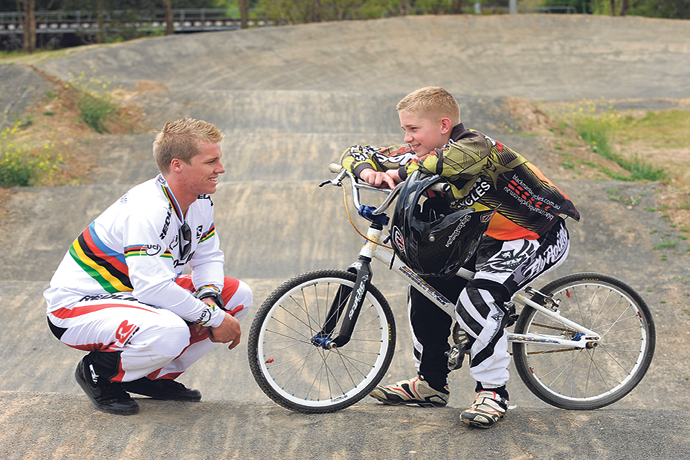 Kyle Jaehne is one lucky 12-year-old.

Just last week the BMX rider got the shock of his life when his idol, professional BMX racer and Olympian Sam Willoughby, showed up at his doorstep to give him some hints and riding advice.
As part of a four-minute segment for the Disney Channel's upcoming 'Undercover Coach' series of interstitials (which will also feature such Australian heroes as Brett Lee, Libby Trickett, Jessica Watson and Craig Lowndes), Sam surprised Kyle in his home garage, where the Cranebrook local believed he was going to be interviewed about his sport.
"It was good. It was really emotional," Kyle said of the unexpected encounter with Sam.
Sam, who won a silver medal at the London Olympics this year, sees a little bit of himself in the St. Pauls Grammar School student.
"It's pretty cool to see in his house all the training things set up. [It] looks like he's pretty into it and works hard, and that's what I was like as a kid – a bit of an OCD [obsessive compulsive disorder] kid," Sam said.
"I had all my stuff set up and was pretty serious and I knew what I wanted to do, and he seems to be doing that same sort of stuff," the 2012 BMX World Champion continued."
Sam and Kyle joined some of the young rider's friends for a race at Panthers BMX Track in St. Mary's, where a Disney film crew captured the fun time for 'Undercover Coach'.
Kyle hopes to follow in Sam's footsteps and one day compete at the Olympics himself.
"I slept until 12pm in the night then got up and watched him [at the Olympics]. I watched him in the finals, every event he did… I was hoping he won gold, but silver's still good. "[Sam] says I'm on the right path to achieving my goals," Kyle, who has been BMX racing since his pre-school days, said.
Keep your eye out for Disney's 'Undercover Coach' segments, which should be airing at the end of the year.