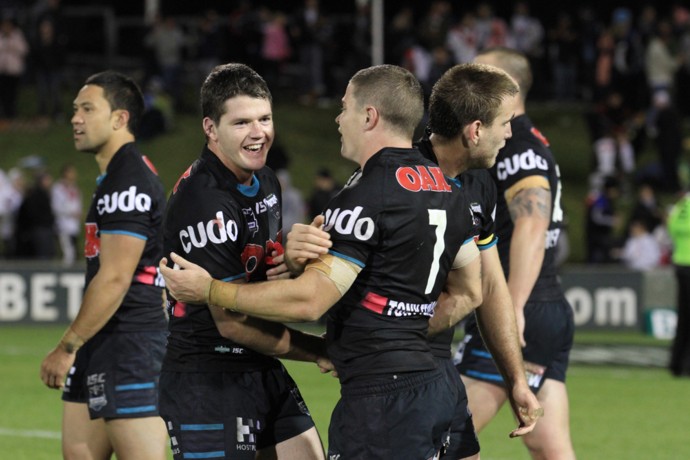 It was certainly a case of missed opportunities last Sunday when the Penrith Panthers went down to a rusty Canberra Raiders 20-10.

The first half had Penrith written all over it but poor options in attack and failure to capitalise on numerous amounts of great field position cost them from piling on the points.
The 10-point defeat also puts the Panthers on par with Parramatta to claim their third wooden spoon in just 11 years.
This week, the task gets a whole lot more difficult when the Panthers travel 'across the ditch' to take on an embattled Warriors outfit who have leaked 97 points in their last two games.
The Warriors haven't won a game in their past five outings but that doesn't mean the Panthers should be expecting an easy two points – we all know what happened when Penrith faced a Storm side coming off five straight defeats.
Panthers second-rower, Clint Newton, said he knows his side can't go into the match with the mindset that the Warriors will be easybeats, saying: "I won't be reading into their recent record because at the end of the day they are nearly the same side that was in the grand final last year, so you can't take away from the fact they are still a very good side".
Newton's right. 10 players out of that 2011 grand final squad will feature during Sunday afternoon's encounter.
One player the Panthers will be relieved isn't featuring is speedy fullback Kevin Locke, who was ruled out earlier this week with a season-ending ankle injury. Coming in for Locke is two-game rookie Carlos Tuimavave.
Expect Luke Walsh to test the young Warrior with plenty of trademark bombs, which hopefully, could very well cause plenty of pain for the youngster if the Panthers are on song with their chasers.
Penrith this week will be missing one of their own speed demons by the name of Michael Jennings, who is out suspended.
Coming in for Jenko is Travis Robinson, who will be keen to prove his worth in just his second game of first grade. One player that did impress during Penrith's recent loss to the Raiders was Michael Gordon.
Flash returned to form in his third game back from a broken leg by breaking the line twice, running 211 metres and scoring a great solo try.
If Penrith are to win this game they need to get back to scoring points and plenty of them.
The Warriors are down on confidence and are probably shattered they have missed out on a 2012 finals spot, a year after being grand finalists. Penrith need to pounce on opportunities.
Yes they are missing two of their best in Jennings and Luke Lewis, and their bench (Weston, Plum, Galea and Achurch) is barely of a first grade standard, but they need to work with what they've got, click and make it happen.
Fans don't want another wooden spoon Penrith and it takes winning to avoid that!