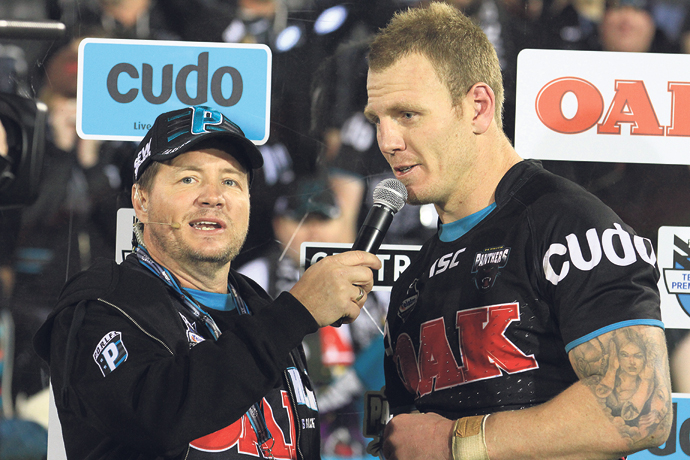 After 15 long years of service, Centrebet Stadium ground announcer, Scott McRae, said he's disappointed he will no longer be able to entertain the die-hard fans on Panthers' game days in 2013.

Speaking with the Western Weekender the day after announcing to the crowd at Centrebet Stadium that 2012 would be his last season, the experienced McRae said he was advised by Panthers management recently that his services would no longer be needed and that the club was planning a different game day experience next year.
"Bottom line is – I wasn't required for next year, I wasn't in Mr Gould's plans and he's going to have to deal with upset fans," McRae said.
McRae, over the years, has made a name for himself as a charismatic television host and actor, and is also the 'brains' and star behind the successful stage musical 'Stevie', a show based on the life and times of rock legend Stevie Wright.
But it was McRae's 'every other' weekend job behind the mic at Centrebet Stadium that fans took a shining to.
His likable persona and true passion for the Panthers resonated through the speakers and he never had any trouble revving up a crowd, no matter how big or how small.
"I just liked to have fun (at game days) and have fun with the crowd," McRae said.
"I could see the crowd having fun with me and it was about connecting. If they (Panthers) wanted a serious ground announcer, I'm an actor, I can play the part of a serious ground announcer if that's what they wanted.
"It was just time for a change and fair enough, that's their call."
After 15 years and ground announcing over 180 games, McRae has seen it all. From wooden spoon disappointments to premiership glory, McRae has seen the highest of highs and lowest of lows.
One thing he will miss will be the people, the passionate supporters and most of all, the players.
"As sad as it is I'm going to miss a lot of people there and I'm definitely going to miss a lot of the boys," McRae said.
"After 15 years I've been through the wooden spoons, the premiership – I've had a taste of it all.
"I'm always going to have good mates there. Guys like Luke Lewis and Lachlan Coote from the current squad are really good blokes. I remember first meeting Lewie (Luke Lewis) when he was a young blonde-headed winger at 18 years of age."
Born and raised on the northern beaches, McRae joined the Panthers as a Manly Sea Eagles supporter and for the first two years regarded his position as "just a job" before slowly but surely converting to the 'dark side'.
"If you want to be passionate about something then I believe you've got to take it on fully, you've got to commit to it," McRae said.
"[Even though I won't be there next year] Penrith will always have a place in my heart because I've been there for 15 years and it was a big part of my life. I can't see myself supporting Manly again, that's not my style."
Whatever the game day experience may be next year, there's little doubt that fans will retain many memories of Scotty coming onto the field in the 'Panther car'.
For many fans, they've never known Penrith Stadium without Scott McRae. Times, they are a-changin'.
The Weekender approached Penrith Panthers for comment on McRae's departure but they did not respond before deadline.