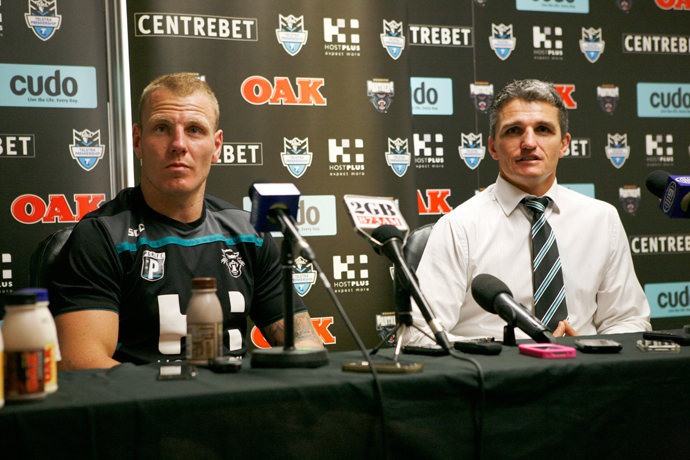 Luke Lewis will say goodbye to fans on Saturday at Centrebet Stadium, but won't get the opportunity to play in front of his home crowd one last time.

A neck problem means Lewis has played his last game for the Panthers and won't get the chance to run out onto Centrebet Stadium as a Panther ever again.
Lewis, a survivor from Penrith's 2003 premiership winning side and a loved local junior, will join Cronulla next season. He announced the move mid-season after being dropped as captain.
Whilst it is unlikely the full story on the Lewis departure will ever come out, one thing that is certain is that he has been a fan favourite for more than a decade, and his passion for the Panthers has been matched by his ability, which has earned him state and national honours.
Long-time team-mate Michael Jennings told the Weekender that he was saddened that Lewis wouldn't be able to play for the Panthers again.
"It is a sad ending for Lewie that he won't get the opportunity to represent Penrith again, that his season is over," he said.
"It is disappointing that he can't represent Penrith one last time and especially at home, so I guess we are going to have to do it for him and really rip in for what Lewie has done for this club, so I guess that's our main focus for this week."
Penrith fans will also farewell winger-turned-fullback Michael Gordon on Saturday. He will join Lewis at the Sharks next season.
And there will be farewells off the field, too, with Scott McRae saying goodbye to fans after 15 years as the club's ground announcer.
McRae was dumped earlier this month, and is expected to be replaced with a new format next season.
Saturday's game kicks off at 3.30, with the original 7.30 timeslot moved because of a clash with the Penrith Show.
Panthers fans are being urged to get out and not only cheer on the team one final time this season, but pay tribute to a club legend in Lewis, who no matter what the circumstances of his departure, will be forever remembered as one of the club's favourite sons.