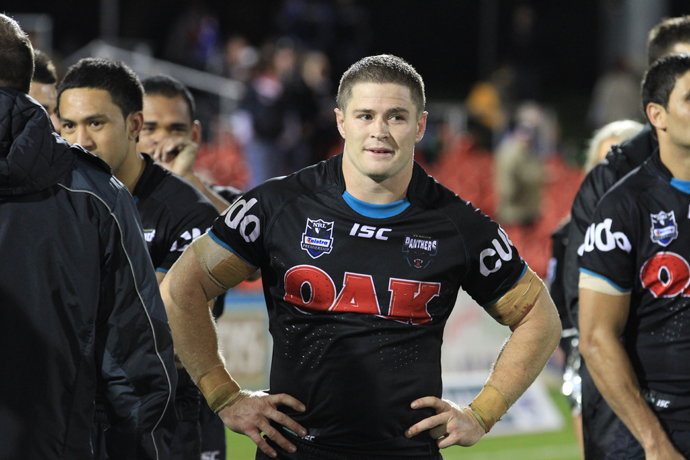 Penrith Panthers five-eighth, Travis Burns, will still miss the rest of the 2012 NRL season and a small portion of 2013 after unsuccessfully having his Intentional High Tackle charge downgraded to a lesser charge.

The 28-year-old was found guilty of a grade one, low-range Intentional High Tackle, which means he'll will miss nine weeks on top of his already three match suspension for a Dangerous Contact charge ('chicken wing'), of which he has already served one game.
Burns' lawyer, Nick Ghabar, plead not guilty for his client, who was sent off back in round 20 for a high shot on Sydney Roosters forward, Martin Kennedy.
Burns defended his actions in the judiciary room stating he did not intentionally mean to hit Kennedy in the head and was attempting a 'ball and all' tackle.
"I did not intentionally mean to hit Martin (Kennedy) in the head, I was trying to do a big strong tackle," Burns argued.
"Martin's a lot taller and I am a lot shorter. I felt I had to elevate myself to do a 'ball and all' tackle. I was intending to wrap up the ball close to my line.
"Before and during the tackle I had no intention, I was aiming for chest height."
However, the judiciary panel made up of three former players – Royce Ayliffe, Sean Garlick and Michael Buettner – disagreed, finding Burns guilty of a grade three, mid-range Intentional High Tackle.
Fortunately for Burns, his lawyer successfully got his charge downgraded to a grade one, low-range charge – meaning he will miss nine matches.
All remaining games in 2012 and the first two official 2013 pre-season trials will count towards Burns' 12 match suspension, and he will be free to play again in round 4, 2013.
Burns and his lawyer did not comment after the ruling.