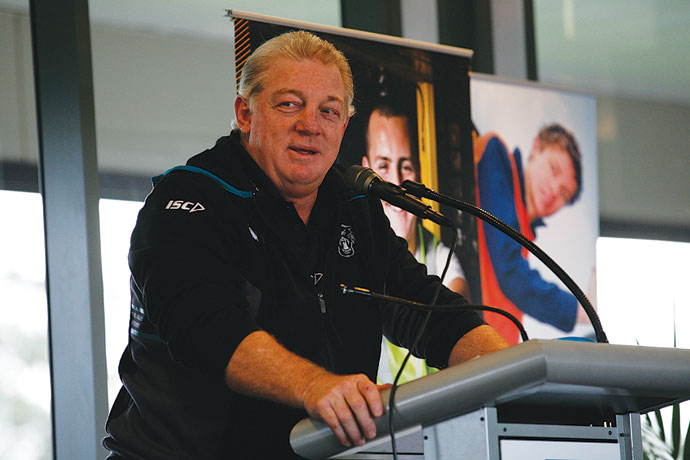 The Australian Rugby League Commission has met with Parramatta, Penrith, Canterbury-Bankstown and Wests Tigers committing to a coordinated approach to development, community, participation and promotion across all aspects of the game in western Sydney.

The Commission's meeting at Parramatta Leagues Club included discussions with western Sydney business and community leaders, including representatives of the Sydney Business Chamber's Western Sydney First CEO Engagement campaign.
"We have four fantastic brands in western Sydney and grass-roots activities happening virtually every day of the year," ARLC Chairman, Mr John Grant, said yesterday.
"Research shows that support for Rugby League among western Sydney residents has grown from 60 per cent of the population at the end of 2010 to 67 per cent in 2012.
"The economy of western Sydney is growing at an amazing rate and Rugby League needs to be a part of that growth.
"Certainly the attitude among the four clubs today is that we can work together to create opportunities.
"The result of this will be a unique plan across the whole of the game in western Sydney that brings together the opportunities for Rugby League to grow even stronger."
The Commission has also reviewed an application from the North Queensland Cowboys that Robert Lui be allowed to return to playing 'at some level' of the game in 2012.
The application included strong submissions regarding Robert's counselling and rehabilitation work since his suspension on April 11.
Lui was suspended after pleading guilty to assault occasioning actual bodily harm to his partner with whom he still resides.
"We respect the efforts on the part of the player and the club and it is entirely appropriate that these are taking place," Mr Grant said.
"Having said that, we remain of the view that the sanction determined on April 11 was the appropriate one and that it gives a clear sign as to how the Commission will look at these events in the future."
The Commission has also determined that next year's City v Country match will be played at Coffs Harbour on Sunday, April 21.
Plans were also reviewed for a Nine's tournament in New Zealand to be played in early in 2014.
The concept, which has been put forward by a New Zealand promoter, is still being reviewed by a working party of Club Chief Executives and NRL management.
The Commission has supported further exploration of the business plan.