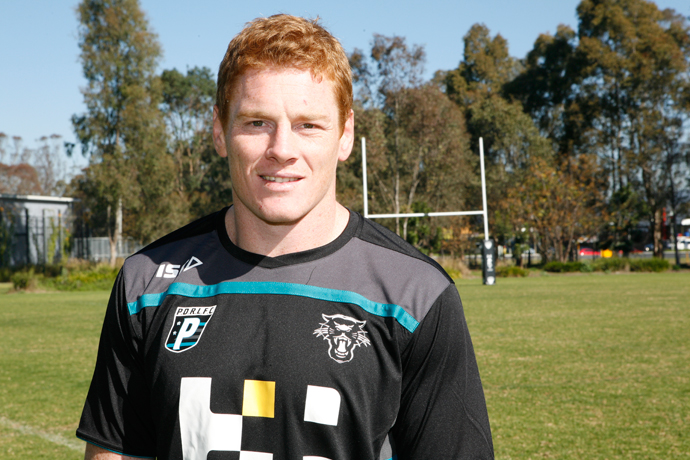 New Penrith Panthers recruit, Shane Shackleton, wants to be a part of Penrith's long-term plans after joining the club mid-season from the Parramatta Eels.

Speaking with the Weekender, Shackleton, who made his debut off the bench for the Panthers during last weekend's loss to the Wests Tigers, said he would love to extend his stay with Penrith beyond this season if given the opportunity to.
"I was very excited to get back on to the big stage last Saturday night and everyone at the club has been very welcoming since my arrival," he said.
"I'd like to think I have long-term future at Penrith but I don't want to look too far ahead. I just want to work on putting in big efforts week in, week out and see what happens."
Shackleton was one of the many players involved in the hectic mid-season transfers that took the NRL by storm last month.
The 188cm giant was transferred from the Parramatta Eels, where he was playing for their NSW Cup club Wentworthville at the time, to the Panthers for the remainder of the 2012 season.
The 30-year-old revealed that Panthers coach Ivan Cleary has indicated that he would like to see him in Penrith colours beyond this season.
"The club has said they are looking at it but I suppose looking at it is one thing and me actually performing to make them want to extend my contract is another thing," he said.
Shackleton made his NRL debut for the Sydney Roosters in 2005 before making his way to Parramatta, as one of their key signings, in 2010. In his first season with the Eels, Shackleton suffered a season ending hamstring injury in round one, an injury doctors said was one of the worst they'd seen.
He fought his way back onto the field in season 2011, playing the majority of the season and became one of Parramatta's standout performers.
However, his 2012 campaign didn't get off to the best of starts after it was revealed Shackleton called his coach Stephen Kearney an expletive on Facebook, when someone questioned him as to why he had been left out of Parramatta's first-grade side.
This did not go down well with Kearney, and Shackleton was forced play out the rest of his days at Parramatta with their feeder side, Wentworthville Magpies.
"I do regret what happened at Parramatta, it was a bit of a slip up and if I had my time over again I wouldn't have said it," Shackleton said.
"It was frustrating not playing first-grade this year because coming into the season I felt 1,000-times fitter and fresher and I just wanted to get out there and do it for the team but I couldn't."
Shackleton stresses despite what happened with him and Kearney, there is no bad blood between his former club and coach.
"I have a lot of good mates at Parramatta and they'll be mates forever," he said.
"I know the story has been very public between the coach and I but I'm still really good mates with him, so nothing negative comes out of it apart from not being able to play first-grade all year."