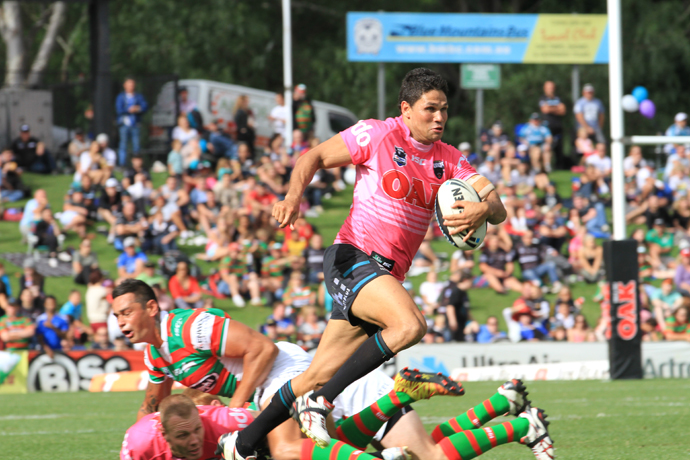 Round 19 is generally considered the start of the run towards the NRL finals.

Rep season is over, there are no more byes to be had, and clubs can start zeroing in on the ultimate goal: premiership glory.
For 14 NRL sides, that's exactly what round 19 will be. But for Penrith (and, of course, our equally struggling western Sydney nemesis, Parramatta) that is a goal that would appear to be unattainable.
So as we head into this Saturday night's clash with Wests Tigers, it's the perfect time to ask yourselves as fans: what would you like to see from the Panthers for the remainder of 2012?
Personally, there are a few things I'd like to see. I'd like to see Penrith stand up and prove they can be a force to be reckoned with at home.
There are three home games remaining, against the Roosters, Raiders and Titans.
All three of these games are extremely winnable, and I'd be disappointed if we didn't walk away with two points from each of these encounters. I'd like to see at least one upset.
While those home games are indeed winnable, Penrith's run in is still extremely difficult, with away games against the Tigers, Sharks, Storm, Warriors and Broncos.
These are all sides that will be fighting for either top four or top eight spots and they'll be short-priced favourites each time they play the Panthers – which means it's the perfect opportunity to play the role of party spoilers.
I'd like to see our young halves get more of a taste of first grade. Harry Siejka and Arana Taumata both have huge potential, and while they're unlikely to unseat Travis Burns or Luke Walsh for the time being, a bit of competition can only be a good thing in an area where Penrith have struggled for the last couple of seasons.
On that note, it's a shame that Blake Austin's shoulder injury has seen his season end prematurely, as his own development has been one of the bright spots of an otherwise dark season.
And finally? I'd like to see Luke Lewis and Michael Gordon get the send-off they deserve.
Despite the controversy surrounding their departures and although the wounds are still raw – particularly in the case of Lewis – these have been two of Penrith's most loyal servants for many seasons.
Gordon has been with the club for seven years, while Lewis made his Penrith debut all the way back in 2001.
They deserve a big send-off. It all begins this week against a Tigers outfit smarting from three straight losses that have seen them drop out of the eight.
Last year, Penrith almost caused a boilover at Campbelltown Stadium, and they'll be hoping they can go one better in 2012. The Tigers need a win. Here's hoping their's can be the first party we spoil.