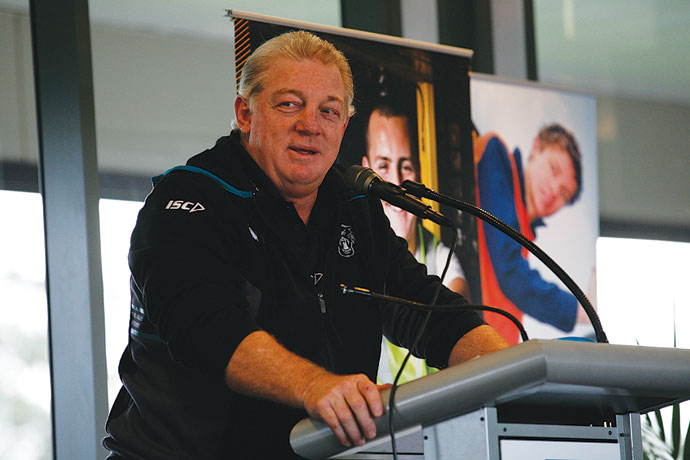 Penrith are on the brink of a major salary cap crisis that will take years to solve and only add to the team's woes.

It's understood that back-ended deals and large contracts, put in place by the club's previous management, have been the major cause of concern for General Manager Phil Gould since he started at the club a year ago.
On Wednesday, Gould said the salary cap was certainly a big issue at the club.
"We have some salary cap issues going forward which are things that have to unravel over time," he told the Weekender.
When pushed on if the cap was putting a major strain on Panthers, Gould said: "Certainly in future years it is, yes. We've got some heavily back-ended deals and that impinges on our recruitment potential now and in the future."
Gould said just 20 per cent of the current Panthers squad has come through the club's junior development system, and his goal is to increase that to 80 per cent.
"Whatever trouble we're in at the moment, my job over the last 12 months was to ensure we never get into this position again which comes down to our development processes, our processes within the club, how we contract players and how we pay them and what value we put on them," he said.
Gould would not be drawn into conversations he has had with the ARL Commission about salary cap relief, saying: "Any conversations I have with the commission are between me and the commission."
Overall, the man with the club of turning the Panthers around said the needed fans to be patient, because success will come.
"I can understand fans – nobody wants to be associated with a losing team but I can't be distracted by that," he said.
"I know where the club is heading and I'm actually extremely happy with the business side of things and other things around our club which 12 months ago were in a very difficult position
"From a football sense it's patience and perseverance. There's been a lot of things we have to get right and it's going to take a lot longer yet."