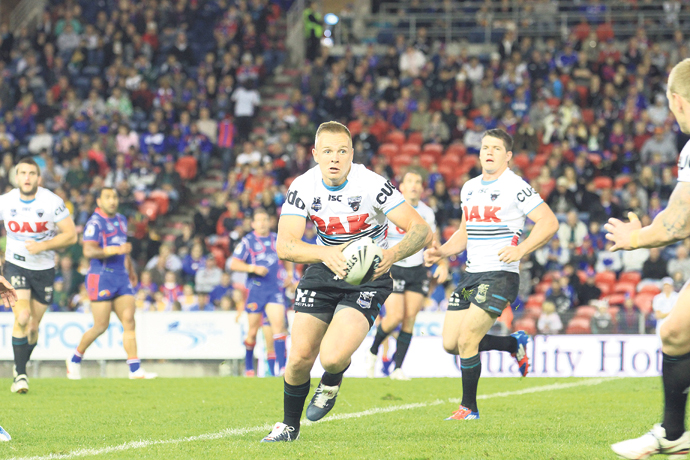 It's official: the Panthers, at least as far as on-field performance goes, are in crisis.

After a relatively promising start to the season, they have lost four on the trot, and with an extremely tough run ahead there's no telling when the rot will stop.
Injuries have played their part. The losses of Michael Gordon, Tim Grant and Kevin Kingston have been perhaps the most telling, and with halfback Luke Walsh picking up a knee problem on Monday night, combinations will be further interrupted this weekend.
Speaking of this weekend: uh-oh.
Certainly, this home clash with the Melbourne Storm – who are eight from eight and showing no sign of slowing – shapes up as a near impossible task.
Many are predicting a cricket score, and if both sides are true to recent form, it could well be.
Injuries may not have helped the Panthers, but more concerning is the complete lack of creativity in attack and discipline with the ball in hand.
Three weeks in a row, we've seen them give away points early in a half through simple dropped balls from routine kick returns.
The Melbourne Storm are not a team needing an invitation to score points.
They're not a team that will give you an invitation, either. Penrith's recent lacklustre attack – which has managed just 14 points in three games – will be up against it again.
At times like this, most fans, desperate for a glimmer of hope, begin throwing out Hail-Mary-style solutions, and the Walsh injury has opened the door for many.
Walsh may have been named this week, but since official team lists have to be filed on Tuesday, most Monday night participants go with simple copy-paste jobs the next morning.
He won't play.
So the question is this: who replaces him?
As far as Hail Marys go, there have been calls for young Harry Siejka to be thrown into first grade.
The 20-year-old prodigy, who represented NSW in the inaugural U/20s State of Origin, is a player of the future.
It's unlikely he'll be thrown into the fray, though – his defence is still not first grade standard, and placing him in the firing line of the Storm is only likely to shatter his confidence.
Another solution comes in Arana Taumata, the troubled 23-year-old who has been through seven NRL clubs already and was almost forced from the Panthers last year after stealing a doctor's prescription pad.
Taumata's talent is undeniable, he has been strong for Windsor, and he has first grade experience. He may well be given an opportunity.
What Ivan Cleary decides to do on Saturday night remains to be seen, but with a short five-day turnaround and confidence at a supreme low, anything less than a cricket score could probably be considered a success.