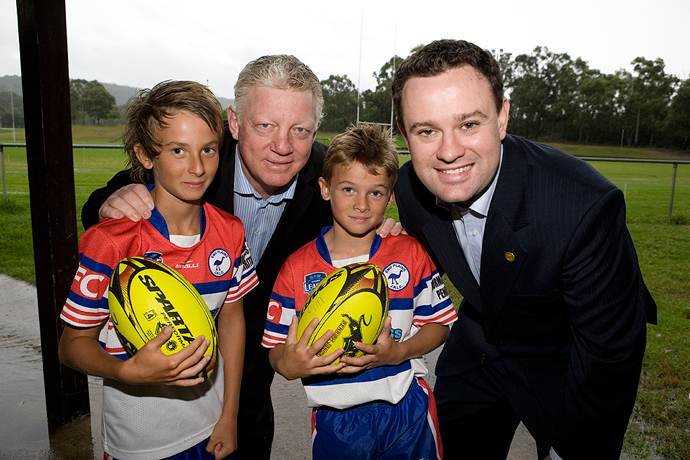 Members of the Emu Plains Junior Rugby League Club are set to benefit from $82,000 under the NSW Government's Community Building Partnership Program to support the construction of a new amenities block at Leonay Oval.

Penrith MP Stuart Ayres was joined by Panthers NRL General Manager Phil Gould and representatives of the Emu Plains Junior Rugby League Club at Leonay Oval to welcome the announcement.
"This new facility will expand the capacity of Leonay Oval to cater to regular sporting events and further promote the NSW Government's healthy lifestyles agenda," Mr Ayres said.

"As the home of the Penrith Panthers, our region has a proud track record of developing tomorrow's league legends.

"I am keen to promote participation in team sports across Penrith due to the added benefits sporting groups play in strengthening community ties and encouraging a culture of teamwork and co-operation among young people."

Peter Howlett from the Emu Plains Junior Rugby League Club took the opportunity to recognise the role Mr Ayres played in securing the grant.

"The parents and players involved will benefit immensely from a new amenities block at this location and I'd like to thank Stuart Ayres for taking on board our views when assessing the grant application," Mr Howlett said.
Mr Gould said the decision to invest in these facilities recognised the significance of rugby league to the Penrith region.

"Penrith is rugby league heartland; Stuart gets that and continues to deliver for rugby league in Penrith," Mr Gould said.

Mr Ayres said Community Building Partnerships have provided excellent funding opportunities for small projects that maintain and enhance the infrastructure that support the quality of life we enjoy in Penrith and the lower mountains.

"As the local member I have found the program helpful in building links with local organisations and helping to shape investment priorities in the local area," he said.

"In Penrith we received approximately $1.2 million in applications for a $300,000 allocation to the electorate. This money has been distributed to a number of worthy causes and I look forward to working with the bulk of applicants who sought funding to secure their organisational goals in the future."