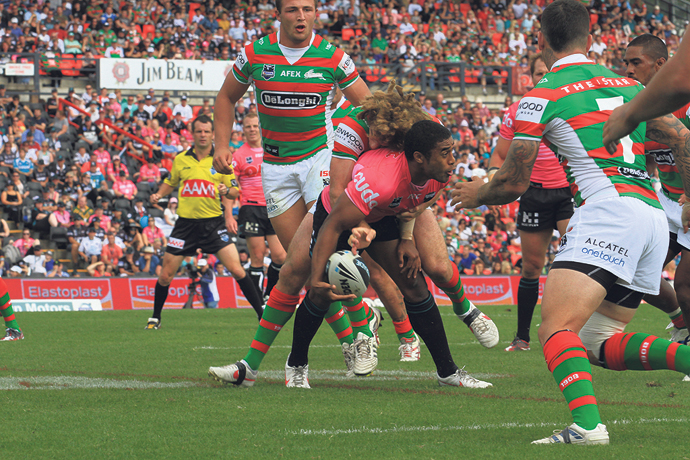 Round five beckons in the NRL. I'll admit this straight up: like most footy fans, the majority of my bold predictions fall flat on their face.
That's what makes them bold, right?
But as I was watching the Sharks vs Cowboys game on Saturday night with the score tied at 14-all and the Cowboys in control, I turned to my mate and said,
"Cronulla are going to win this, and Paul Gallen is going to score the winning try."
I'm sure I wasn't the only one who got that sense. Rarely have I seen one player have such an impact on a game of footy. Gallen saved half a dozen tries from being scored, clocked up 250m in attack, and yes – crashed over for the deciding four-pointer.
Gallen is superhuman – we hear he shuns locker rooms for telephone booths – but one man, however super, does not a football team make.
And so, as we prepare for an important home clash against the Sharks, I thought it was a good opportunity to take a look at some of our own supermen…
LUKE LEWIS: If there's one player in the NRL besides Gallen that should walk straight into a Blues jersey this year, it's the Panthers' captain. He's been far from his best so far this season, but his shift to lock last week showed promising signs, and I think it's just a matter of time.
MICHAEL JENNINGS: Make no mistake – Jenko is back. He's heavily involved, setting up and scoring tries, and putting defences in two minds whenever he runs. Most fans roll their eyes at players with a habit of darting across field in attack, but when Jenko does it you get the sense anything could happen.
LUKE WALSH: Forget the fact this kid played all of last season busted and was still named club Player of the Year; in 2012 he's back to 100 per cent fitness, and it's beginning to show. The halfback produced a five-star performance against the Eels, showing exactly why the club has placed so much faith in his talents.
TRAVIS BURNS: Maligned at times for his lack of potency in attack, "Monty" has been directly involved in almost half the Panthers' tries so far this season, silencing those critics for now. What nobody can deny, though, is his defence. He regularly clocks up 25+ tackles, many of them one-on-one close to the line – not bad for a 5ft 8 five-eighth.
SAM MCKENDRY. With Petero gone and Tim Grant out injured, McKendry has had to step up big-time in these opening rounds, and step up he has. Last week he made 28 tackles and 18 runs for 151m – superb numbers by any standards. And he's scoring tries, too.
Can Penrith's own supermen combine to give the club its first home victory of the season, or will the Gallen-led Sharkies score their third win straight?
Don't be surprised if Tim Grant passes a late fitness test and finds his way into the team, while there would have to be doubt over Nathan Gardner for Cronulla, who looked pretty sick after going down in last week's win over the Cowboys.
Let the supermen fly…