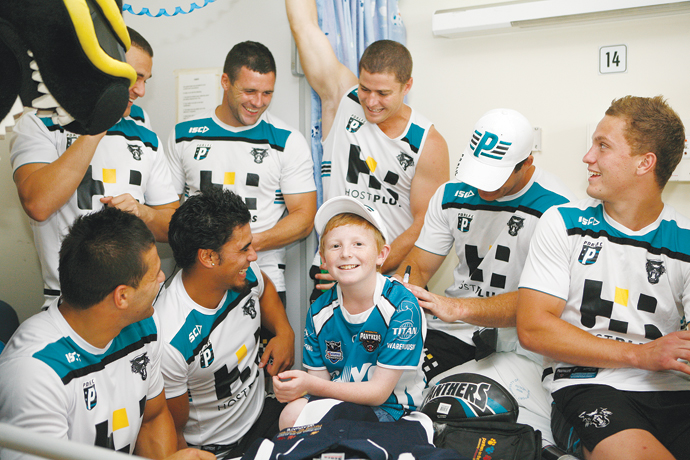 A visit from the Penrith Panthers team was far better than the "chicken schnitzel sanga" Jacob King was expecting at lunch on Wednesday.
In fact, it was a big surprise for the true little hero – 100 times over.
Jacob, 12, has endured regular blood transfusions at Nepean Hospital for the past five years.
With his 100th blood transfusion scheduled for Wednesday, the Acting Nurse Unit Manager for the children's ward, Jill Astbury, made it her mission to arrange for a dozen of Jacob's favourite Panthers stars to drop by.
And when the Panthers players did prop themselves up on Jacob's bed, you couldn't look past his beaming smile.
"This is just so overwhelming – a big thank you to the Panthers for coming, they've just made it a very special day for a special boy," said his grandmother, Jan King.
Jacob, who attends Kingswood South Public School, suffers from an immune deficiency disease – it is incurable and life threatening.
"The blood transfusions help to keep him alive," Mrs King said.
"It can be extremely difficult at times, but it's special things like this that make it all the more bearable for Jacob."
The Panthers players came bearing presents including a brand new television and a range of merchandise and jerseys, which the avid Penrith fan was quick to throw on.
While he wouldn't admit it in front of the team, Jacob continued to recite a load of facts about Michael "Flash" Gordon long after the Panthers left.
"He's definitely my favourite," Jacob said.
Ms Astbury from the children's ward was full of praise for Jacob.
"He is a very deserving little boy. A lot of adults wouldn't be able to handle what Jacob does – he never whinges and never cries," she said.
"I'm so pleased he was surprised, his face was priceless!"