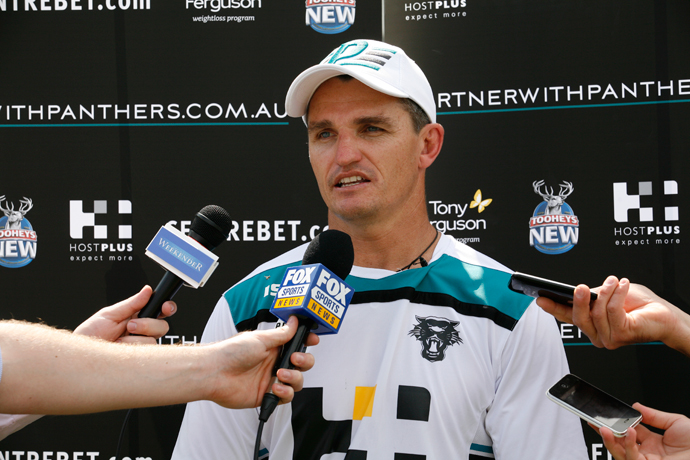 A new rugby league era at Penrith is officially underway.
One of new Panthers boss Phil Gould's key decisions – the appointment of Ivan Cleary as head coach – reached the point of reality this week when he guided the team through its first training sessions of the pre-season.
Cleary, who took the Warriors to the Grand Final just last month, admitted the soaring temperatures in Penrith this week were a little different to what he was accustomed to in New Zealand.
"The weather's a little bit different to what I've been used to but it's great to be here," he said.
"There's a really good feel around the club… everyone is very bouyant."
Reluctant to talk about goals or what may be on the horizon for the club given he's only been in charge for a few days, Cleary is confident that he has the right squad to be competitive next season.
"I'm still trying to work it out myself. I've only seen what I've seen from the outside but getting on the inside is completely different," he said.
"As a group, in the short time I've been with them, they've been great. They're out here really having a go."
Cleary said the first few training sessions of the new season were always tough.
"It's always a bit of a shock to the body whenever you start the off-season training," he said.
Cleary admitted that he didn't have much of a break after leaving the Warriors and joining Penrith, but said it was "a good thing".
"It's been short and sharp but i've been looking forward to this for a while," he said.
"There's a long way to go and a lot of work to do but you've got to start somewhere and I'm just happy to get started."