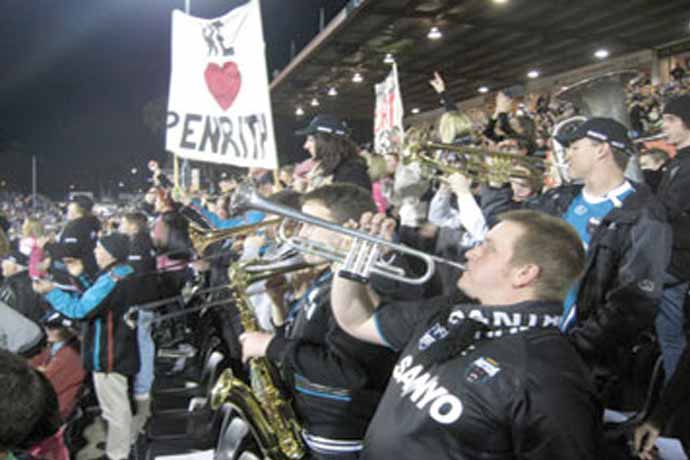 Penrith were 32-12 down. Lewie, Jenko, Flash, Cootey and Burnsy all sat watching from the western grandstand. And six points outside the eight with just three rounds remaining, Penrith's season was well and truly finished.
But it didn't stop the Black Hole Band from playing on.
As disappointed fans poured out of the ground with minutes remaining, the eight-piece brass, woodwind and percussion ensemble continued to raise the spirits of Penrith's army, singing and dancing right until the final siren.
And they were rewarded for their efforts in the dying stages of the game when Ryan Walker crossed for a consolation try in the nearest corner.
For Dan Johnson, whom the Black Hole faithful know as Dan the Trumpet Man, last Friday's game typifies what the Black Hole Band is all about.
"Win, lose or draw, we're always having fun," Dan said.
"It's just about having fun, creating atmosphere and making it a good night for everyone around us."
While the turmoil surrounding Penrith's 2011 season could have made it difficult to maintain the enthusiasm, the band hasn't missed a beat. It's something they've been doing for several seasons now.
"We started out around 2005 when England toured Australia for The Ashes. The Barmy Army brought their trumpet player out in the crowd and we thought, 'we could do that'," Dan said.
"So we had a go and here we are now. At the time we had no idea what it would become, but now people are always like 'where's the band, where's the band?' It's a bit of a cult figure, almost.
"The players all seem to like it too. We've been down in a few games this year, then the band has played and we've come back and won, so it makes a difference on the field, definitely."
The Black Hole is a dedicated section in the eastern grandstand of Centrebet Stadium set aside exclusively for Panthers fans.
All seats are painted black, with the ultimate goal being to become one of the largest and most respected supporter groups in the NRL.
"We're extremely young compared to the Dragons and the Bulldogs and teams like that, but it's growing and every year it's getting bigger and bigger," Dan said.
The band, often referred to incorrectly as the 'Black Hole Brass Band' (they also have a drummer and a saxophone player – technically a woodwind instrument) congregates in the top left corner of the Black Hole.
The Black Hole Band consists of Dan Johnson, Matthew Fitz, Owen Robinson, Stephen Arblaster, Chris Gray, Scott Jamieson, Alexander Clark and Jonathan Sharoff.