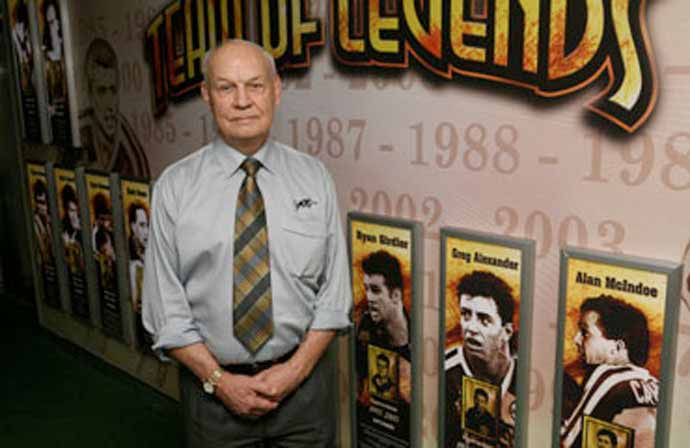 Panthers Chairman Don Feltis has responded to the controversy revolving around Petero Civoniceva's bizarre parting shot at the club's Board.
It was revealed today that Civoniceva had gone to extraordinary lengths to ensure comments about the Board, and a call for fans to install a new one at season's end, were printed in the match-day publication Panthers News.
Civoniceva is quitting the club in a fortnight.
Mr Feltis said whilst he acknowledged there would be expectation on him as spokesperson for the club to respond to the comments, he did not want a media-driven debate on the issue.
"During the course of this season I have extended an invitation to Petero on at least two occasions to arrange a meeting between myself with him and the senior players to discuss any issue he wishes, he has not taken up that invitation," Mr Feltis told The Western Weekender.
"I refer those in the media who are criticising the board and senior management, to the steady progress the club has made on a deliberate recovery strategy plan that we have been following for the past two years and as just one indication of the progress that has been made, trading at the Penrith club last weekend was the best for the past five years, which has significantly resulted from the astute and professional leadership of Penrith general manager Sue McNeill and group chief executive Ric Simpson and Panthers' committed staff.
"The Panthers board in addition to over viewing the rugby league operation, also over views the entire group of fourteen clubs including the large Penrith club and is comprised of committed, experienced and astute corporate thinking directors, who are not remunerated and who spend many hours each day and each week working on sub committees and board meetings advancing the clubs interests and our rugby league operation."
Mr Feltis said that in his annual report to members at the last annual general meeting, he advised of his email address and invited members to contact him.
"That invitation remains open," he said.
"I have publicly advised a number of times that Panthers rugby league belongs to the community and the Panthers R.L. club belongs to the members. That will not change whilst I am chairman."