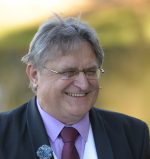 Short Business Description
The awarded & fun Marriage, Naming, Funeral & Memorial Celebrant of choice...
.. and a great MC
For all the moments of love in life that are worthy of Celebration,
For those events that you truly want to remember, and be a part of, always!
Long Business Description
Let's design your Ceremony together and make it wonderful.
A professional celebrant with a permanent smile, for all the special occasions in your journey of life: Weddings, Renewals; Naming Ceremonies; Funerals, Memorials & More
Fun, enthusiastic, helpful, experienced, knowledgeable, compassionate, and uniquely different.
The Celebrant of choice for Hatch, Match & Dispatch – the truly important occasions in life.
Business Address
13 Morningbird Close
St Clair NSW
2759