Short Business Description
Climacool Air Conditioning Service- Installation, Repair & Maintenance
Long Business Description
Over more than 20 years, Climacool Air Conditioning has delivered qualified air conditioning facilities across Sydney's. Our team of trained technicians may provide assistance for both residential and industrial properties. We are trained in air conditioner installation, repair & maintenance. Call us for any aircon service.
Business Address
1/53 Anderson Road, Mortdale NSW 2223
2223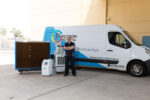 Short Business Description
Precision Air Rental provides temporary air conditioning hire for your home, office, business or event
Long Business Description
If your air conditioner has broken and you need to keep your home or business cool while it gets repaired, call us for priority air conditioning delivery and installation.
We keep your home or office cool with discreet portable air conditioners Our machines are some of the newest in Sydney, with a 100% uptime record, and we provide a 24 hour guaranteed replacement should anything go wrong.
Business Address
Unit 2, 10 Ormsby Place
Wetherill Park
2164
Business Address
Unit 11/47 Third Ave Blacktown NSW
2148