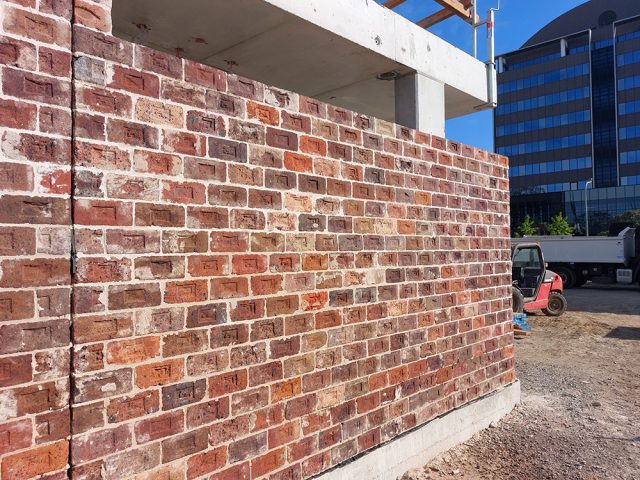 City Park's new amenities building is bringing some of Penrith's past into the present, with the façade constructed using bricks made by St Marys' local William Fleming in the mid-1800s.
Fleming owned and operated The Nepean Brick and Tile Company from 1866 until 1897, which was considered the most successful brickyard in Penrith.
His bricks were stamped with the letter 'F' or a diamond to make them easily distinguishable, which visitors to City Park will be able to see in the façade.
Penrith Mayor Todd Carney said it was wonderful to be able to give the bricks a new home in City Park after being salvaged from the former Rodley House in Penrith.
"Bricks from the John Price & Son funeral home which used to sit in this location have also been recycled and used in the pavement around the sunken rain garden," Carney said.
"It's great that we've been able to bring some local history into the park while also championing a circular economy by reusing these materials instead of just throwing them away."
The amenities building features a green roof to complement the trees, gardens, and other greenery throughout City Park which will help create a vibrant green space in the City Centre.
City Park is moving closer to completion following the recent installation of several water features including a circular water fountain, cascading pools with a connecting stream, fog fountains, and the first section of the central lawn has been laid.
It will also feature a 78-metre sunken rain garden, trees, pergolas, seating, and public artwork once complete.
Allen Place laneway has been widened and refurbished with a paved footpath, vehicle loading bay area, mountable kerb, garden beds, trees, and raised pedestrian thresholds as part of the project.
This project is proudly funded by Penrith City Council and the NSW Government through the Public Spaces Legacy Program.
The NSW Public Spaces Legacy Program is an investment in high quality public open space. Together with the NSW Government, Council is delivering vital infrastructure for communities to love the place they live.
The NSW Government is contributing $4 million to the City Park project.
Member for Penrith Karen McKeown said it was fantastic to see more green and open space being created in the Penrith CBD.
"City Park is going to become a hub for the community to enjoy and a place to connect with each other when it opens later this year," she said.
City Park is expected to be completed at the end of 2023, weather permitting.