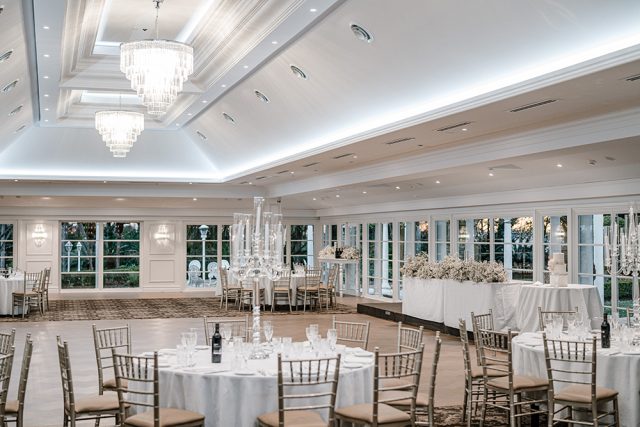 Navarra, known for its exceptional Sydney venues that host a wide range of events, proudly celebrates 50 years in 2023.
The relaunch of Oatlands Estate, a 200-year-old French Manor and the introduction to the all-new 'Grand Ballroom' in October 2023 is just the start of Navarra's celebrations. Navarra holds the remarkable distinction of being one of Australia's longest-standing events companies. This milestone celebrates the events industry in Australia and a family-grown company.
The heart of this exceptional re-launch is the introduction of Oatlands Estates 'Grand Ballroom', a meticulously curated event space that's been re-designed to elevate any celebration. The Grand Ballroom can now host events of over 1000 people and includes the highest quality technology and stand-out details; An all-new marble bar, ballroom chandeliers, floor to ceiling windows with Freshly manicured garden designs. The space includes over 20 rigging points to capture the clients' visions and allows for a versatile and customisable space. Newley incorporated hanging feature tables and ghost chairs modernise the only French-inspired manor with city views in western Sydney.
"We are absolutely thrilled to be celebrating 50 years in the business with all our clients, friends and family, we have a lot of exciting things to come, and this is just the start, "said Sal Navarra, CEO of Navarra.
Navarra will host many events and giveaways for clients to celebrate such a momentous year. In October, Navarra will begin hosting immersive events featuring displays at each of its venues. The re-launched Oatlands Estate will hold events that include interactive demonstrations, and the opportunity to meet with the creative minds behind the concepts. Event planners, corporate clients, and individuals seeking to host exceptional event experiences are invited to attend and experience the magic first-hand!
Oatlands Estate's doors have opened to hold exclusive venue tours for potential clients!
Filippo Navarra, the company's founder, opened his first event venue, Conca D'oro, a timeless event space that still produces amazing events in South Sydney in 1973.
The hardworking migrant, alongside his wife Sarina, put everything they had on the line to begin their new family business in the events industry. Under the direction of Filippo's children, the company first built on dreams is now established as a family business driven by passion, perseverance, and perfection.
For more information about Navarra, its newly launched "Elegance Envisioned" series, please visit https://navarravenues.com.au/ or connect with us on Instagram , Facebook, Twitter or LinkedIn.
About Navarra
Since 1973, Navarra has focused its efforts on producing first-class quality hospitality in all its forms. From food, to service, to styling, to coordination, venues to experiences, founder Filippo Navarra transformed the landscape of the hospitality industry. Navarra has four venues in Sydney, Oatlands Estate, Oatlands; Montage, Lilyfield; Curzon Hall, Marsfield and Conca D'oro, Riverwood.