For over two years, Lloyd Weston has let his two macaws, Rocket and Blueberry, free fly almost every day. But, with Rocket now missing, it's time for the Penrith community to step up.
Despite growing up in Penrith, Weston recently relocated to Dubbo, and was just in the area visiting family when tragedy struck last Tuesday.
"The two of them fly every day, it just seems like wedge-tails are a bit more curious of them," he said.
"About six of them saw them hovering in the distance, and of course I call these two back, but they ignore me because they want to go for one last fly, and then Rocket's just disappeared into the Mountains."
Over the past week, Weston has continued to take Blueberry out to assist in the search, flying around and calling for Rocket.
What's been most helpful, Weston said, is that the local community has rallied around him in this difficult time, contacting him with sightings via his Facebook page, which currently has almost 2000 followers.
"It's really helpful to let us know where he is, because they are creatures of habit and routine," he said.
"The more sightings you get, the better it is, but you need visual sightings, because it helps me track locations he's going to. If he's found food in particular locations, he'll be visiting them all the time."
At this point in time, it's anticipated that Rocket is located in bushland around the Emu Plains and Lower Blue Mountains areas, although there have been potential sightings everywhere from the Nepean River to Cranebrook and Leonay.
Describing Rocket as a 'gentle giant', Weston is encouraging everyone to look out for his long tail and bright colours flying over Penrith, or hiding in the bush. But, with Blue and Gold Macaws able to fly over 40km in a day with ease and fly at speeds over 50km/h, he's taking sightings with a grain of salt.
"The biggest issue is that they're such good flyers, so when you're trying to track them, if you get a sighting somewhere, it doesn't necessarily mean he's going to be there by the time you drive even 10 minutes down the road," he said.
"It's more about routine, and even when I take [Blueberry] out, hoping that we get lucky."
Weston said that his birds fly at canopy or tree top level, and are able to fly within the canopy making them hard to spot when they don't want to fly high. However, they're most likely to fly within the first three and last three hours of sunlight.
For updates or to report sightings, check out Weston's Facebook page, Rocket and Blueberry – B&G Macaws.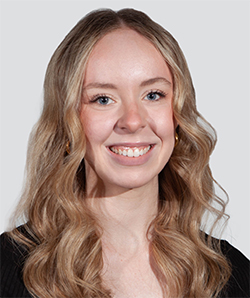 Cassidy Pearce is a news and entertainment journalist with The Western Weekender. A graduate of the University of Technology Sydney, she has previously worked with Good Morning Macarthur and joined the Weekender in 2022.