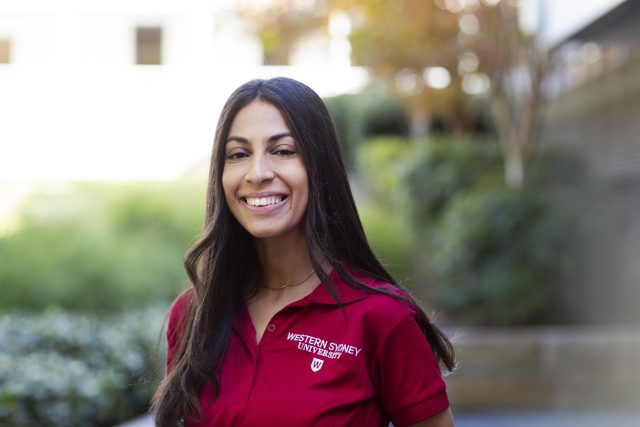 While many prospective students may think they have to wait till next to year to start university, Western Sydney University (WSU) isn't wasting any time – allowing students to start right away.
WSU is encouraging students to kick-start their education now, offering the option to apply for mid-year entry and start in the middle of the year.
For Yulita Bassiliou, commencing her studies at WSU mid-year was the best decision.
After finishing her HSC and jumping straight into pursuing a degree at another university, she could instantly tell something was missing.
Despite family and friends encouraging Bassilious to "wait it out," she started searching online in pursuit of finding her dream course.
That's when she came across WSU's Bachelor of Humanitarian and Development Studies with a double major in Human Rights, Protection and Development and Humanitarian Preparedness and Response.
Not wanting to waste any time, Bassilious called up the university to find out more about the degree and the possibility of starting mid-year.
"I started as a non-current school leaver and when I saw the degree I was interested in on the Western website, I spoke to someone at the Student Services Hub who talked to me about the degree and the process of applying," she said.
"By the time the phone call ended, I was applying.
"Now I'm in my final year, I am so glad I made that decision. The course is specific to what I was looking for and it was the only degree of its kind in Australia."
Although she was initially concerned about starting the course mid-year, Bassilious said she's glad she made the jump to study at the Parramatta South campus.
"I was nervous about starting in the middle of the year, but I am glad I took the chance instead of waiting until March the following year," Bassilious added.
"Starting university or changing degrees can be daunting, whether you are starting right from high school or as a non-current school leaver, change is scary.
"However, the support I have received from the university made a tangible difference during the transition."
Although the Student Services Hub team member is nearing the completion of her degree, with plans to work in women's health education in developing countries, it doesn't mean that's the end of her university education.
"I can also see myself completing postgraduate studies in development after working for some time," Bassilious said.
"Studying has challenged me to dive into conversations and topics that I might find a bit out of my comfort zone, but that is the beauty of learning.
"The degree and overall experience at the university has impacted me on both an academic, professional and personal level."
To find out more go to www.westernsydney.edu.au/future/study/mid-year-entry.
Ellie Busby is a news reporter for Western Sydney Publishing Group. A graduate of the University of Hertfordshire and Western Sydney University, she is a journalism Major. Ellie has worked with Universal Media, The Cova Project and for a range of other projects.