It can be difficult to find ways to keep the kids busy during the school holidays, especially as the cold settles in. Luckily, there is a range of local activities to keep you and the kids warm and active this winter break…
Indoor Skydiving – For Those Seeking a Thrill
If you're looking for something exhilarating and an experience like no other, iFLY is the place for you.
With flyers able to be as young as three-years-old, this is an experience not to be missed. iFLY has options to cater to any needs, with highly skilled coaches and mentors with you at all times. Located next to Panthers, you are also in range of an amazing feed at Penrith Panthers Leagues Club after your feet are once again on solid ground and your adrenaline has worn off.
For an experience that the kids, and you, won't forget, visit ifly.com.au.
Vintage Fire Engine Rides
For those thinking of visiting the Museum of Fire over the school break, there is an eye-opening experience to be aware of. On Saturday, July 1, between 10am and 2pm, the museum will be providing vintage fire engine rides for only an extra $3 per person. Gain first-hand experience driving in a genuine Ford D200 fire engine; the same that was used across NSW towns in the 1960s. With general admission only being $15 for adults and $7.50 for children aged 2-13, this is an experience not to be missed!
Mamre Homestead Markets
Market Warriors will be hosting the Mamre Homestead Market at Penrith Paceway on Sunday, July 2. With only a gold coin entry, this is a perfect event to interact with and support local small businesses and the talent they have to offer. With over 40 stalls of food and retail, and continuous entertainment, it is a day for the whole family to enjoy and mingle with the community.
A Feat of Strength – NERF Warfare
Emu Sports Club is welcoming an intense and exhilarating opportunity to train, game, and compete in NERF warfare. Two sessions will be available on Monday, July 3 from 10am-11.30am and 12.30pm-2pm at $28 per child, with an included kids meal to keep them energised and ready for more.
This event is suitable for children aged seven and above, however laser wars are offered to children aged five and six. For tickets, visit www.stickytickets.com.au.
Interactive Reptile Show
For all those with kids interested in slimy, scaly, and soft-shelled creatures, Peter Goodfellow Theatrette at Penrith City Library will be showcasing various members for the reptile family in a one-hour show.
On Wednesday, July 12, between 11am and 12pm, children aged two to 10 are invited to participate in this interactive family show. For only $10 per child, this is a school holiday activity that is sure to be memorable. For tickets, visit www.eventbrite.com.au.
The Listies Visit Penrith
'Hamlet: Prince of Skidmark', a multi award-winning children's comedy play, is visiting Penrith this school holidays. Produced by The Listies – Richard Higgins and Matt Kelly – and Declan Greene, this cheeky and captivating interactive adaptation of the classic Shakespearean play is sure to keep your bellies full of laughter and your eyes glued to the stage. Aimed to be enjoyed by those aged five and up, this show is a must-see these school holidays.
The show will be performed at the Joan Sutherland Performing Arts Centre on Thursday, July 13 at 6pm and Friday, July 14 at 10am and 1pm.
For more information and to buy tickets, visit www.thejoan.com.au.
Brick Builders
If you're looking for something free and engaging, Penrith Library will be hosting a Brick Builders workshop on Monday, July 10 between 10.30am and 12.30pm .
This is an opportunity for the whole family to get involved and prove their creative potential, whether it's following the suggested builds, or bringing your own designs to life. Bookings are not required for this event and the whole family is welcome to get involved.
Historical Festival and Open Day
The Arms of Australian Inn Museum is hosting a Historical Festival and Open day on Sunday, July 16. Run by the Nepean District Historical Society and visited by the NSW Corps of Marines, this festival will allow the whole family to be immersed in local history. Demonstrations of drills and re-enactments from the times of the early colony, coupled with various activities for all ages, ensure there will never be a bland moment. Admission ranges from $5 to $10 per person, with lantern tours available for booking for $15 per person.
The Funlab Experience
With multiple venues situated in the local area, Funlab offers endless opportunities for fun and excitement. Visit Holey Moley (pictured left) for competitive and awe-inspiring mini golf courses fit for the 'hole' family. Archie Brothers Cirque Electriq offers an extensive range of arcade games, ranging from the classics to new skill games sure to leave you hooked.
Or if you're looking for even more competition, Archie Brothers also contains a bowling alley, ready for you to show off your skills. For more information and specific locations, visit fun-lab.com.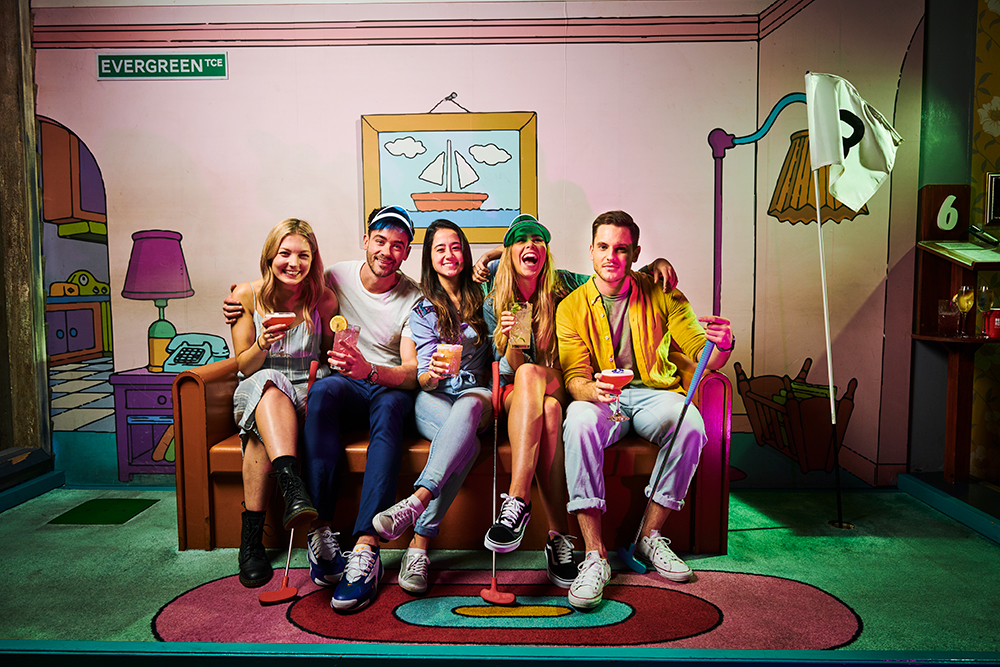 Can You Beat the Clock? Narrow Escape Rooms
Narrow Escape Rooms offers a unique and immersive experience that is guaranteed keep brains sharp and minds active as you work in groups to solve puzzles and escape the room before time runs out. Two out of their three offered puzzle rooms – Launch and Undetected – are available to children aged eight and above with adult supervision. Their final, and hardest room, is available to those aged 12-plus in a family group or 16-plus without supervision.
If you're looking for an opportunity to test your teamwork and prove your problem-solving skills, this is the perfect experience for you. For more information and to book, visit narrowesc.com.au.