New robotic technology has been introduced at Nepean Hospital to assist orthopaedic surgeons in delivering knee replacements with improved accuracy.
The Robotic Surgical Assistant, known as ROSA, applies 3D modelling pre-operatively to support surgeons in planning the optimal position of the knee implant with millimetre accuracy.
Knees are the most common joint replacement procedure performed at Nepean, with Associate Professor Yasser Khatib, Head of Orthopaedic Surgery, stating that he hopes the use and implementation of ROSA will assure patients that they're getting the most technologically advanced experience of surgery at the high-volume centre – which is only the second public hospital in New South Wales to access it.
"With the introduction of ROSA, people in the Nepean Blue Mountains area can be assured they're receiving world-class surgery with world-class surgeons," Khatib said.
In addition to being the most common, knee joints are also a more complex joint due to movement and balance, which can result in a more involved recovery, longer length of hospital stay and more physiotherapy than other joint replacements.
Khatib has high hopes that improving the preciseness of the procedure with ROSA will result in improvements for patients throughout their time at Nepean.
"ROSA may be particularly beneficial with some of our more complex cases as it provides us with objective data on soft tissue balance and tolerances, providing us with valuable information to judge and modify the best position of the prosthesis," he said.
"Ensuring the precision of the procedure has the potential to improve patient outcomes, enhance the patient's surgical experience and make the recovery easier after surgery.
"ROSA may assist us to minimise pain, improve balance and movement of the knee and overall, reduce the length of hospital stay and rehabilitation required after surgery."
With exciting benefits on the horizon, Khatib has partnered with fellow Nepean Hospital orthopaedic surgeons Associate Professor Rami Sorial, Dr Eli Olschewski and Dr Pavitar Sunner to conduct a clinical trial examining just what ROSA can offer.
The surgeons hope that the study's data will demonstrate just how the use of robotic technology, such as ROSA, can support a faster recovery and a shorter hospital stay.
"Our patients deserve the best care possible and anything we can do to help improve their experience and speed up recovery is worth investing in," Khatib said.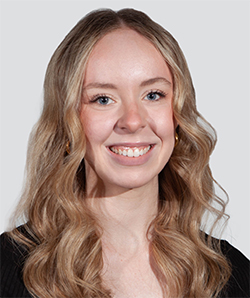 Cassidy Pearce is a news and entertainment journalist with The Western Weekender. A graduate of the University of Technology Sydney, she has previously worked with Good Morning Macarthur and joined the Weekender in 2022.