A strip of well-known buildings along High Street are set to be demolished to make way for two modern seven-storey buildings to provide more commercial and residential space in Penrith.
A Development Application (DA) lodged with Penrith City Council for 342-350 High Street, Penrith was approved last week by the Penrith Local Planning Panel.
A previous DA for the demolition and construction of a seven-storey mixed use building across 342-346 High Street was approved in 2017 but the site and plans have been updated, with the Statement of Environmental Effects (SEE) saying that the expansion will provide "an opportunity to further enhance the design outcomes in this locality with an additional allotment being added to the development site".
The $20,429,482 proposal will have two buildings, with Building A fronting High Street that will use the first four levels for commercial space with a café.
"Two basement levels are proposed, accommodating 56 car parking spaces, plant rooms, storage lockers and bicycle parking," the SEE said.
"Level 5 is proposed to accommodate two, three-bedroom units and Level 6 is proposed to accommodate a four-bedroom penthouse. It is noted that Level 3 also provides a landscape area on an 'open terrace'."
Building B, which will be situated at the rear of the subject site with northern frontage to John Cram Place, will have a lobby on the ground floor and then approximately 26 residential apartments in the levels above.
"Basement Level 1 accommodates 13 car spaces and one wash bay. Basement Level 2 accommodates 17 car spaces," the document said.
"Accessible spaces are provided across both levels, as is resident storage, bike parking and plant rooms."
Vehicle entry to the future buildings will be from John Cram Place, a service laneway entered via Castlereagh Street with entry ramps provided to both buildings, leading down to the basement levels.
Documents to Council also revealed that Property Central Penrith declined an offer in 2021 for its real estate office location at 352 High Street to be acquired to form a joint venture as part of the redevelopment of the site.
With the panel meeting on Wednesday, April 19, the four members, which are made up of experts and a community representative, gave approval but agreed that some points needed to be addressed prior to the issue of a Construction Certificate.
"Building B is required to ensure that each three and four-bedroom unit is to have a minimum of two parking spaces. This can be a reallocation from visitor to residential parking resulting in a minimum of one visitor parking space," the Determination and Statement of Reasons said.
"Further detail of finishes, materials and dimensions of proposed pedestrian laneway signage ensuring the signage is integral and sympathetic to the development."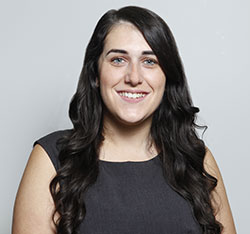 A graduate of Western Sydney University, Emily covers Local, State and Federal politics for the Weekender, as well as crime and general news.