Are you looking to book in your next date night? Here's five awesome date night options right here in Penrith.
Pinot & Picasso
If you're looking for the perfect Penrith date night with a twist, why not head to Pinot & Picasso. And on May 12, couples can paint each other in a unique experience at the Penrith studio.
It's a real art knowing who someone truly is. How well do you know your partner? Join Pinot & Picasso for a fun filled session and get to know one another deeper as you work your way through fun conversation starter cards and add colours of meaning to the background of your painting.
For those who don't know what an aura is, it is a special quality or feeling that seems to come from a person, place, or thing. What aura does your partner emanate? Come along and learn more in this vivid, vibrant and fun painting session!
BYO partner and favourite glass of pinot and connect with colour at Pinot & Picasso! If the May 12 event isn't for you, make sure you get in contact with the Pinot & Picasso team or browse the website to see other upcoming events, or to book a private night at the studio – perhaps with other couples!
Pinot & Picasso Penrith is located at 458 High Street, Penrith. Visit www.pinotandpicasso.com.au for more details.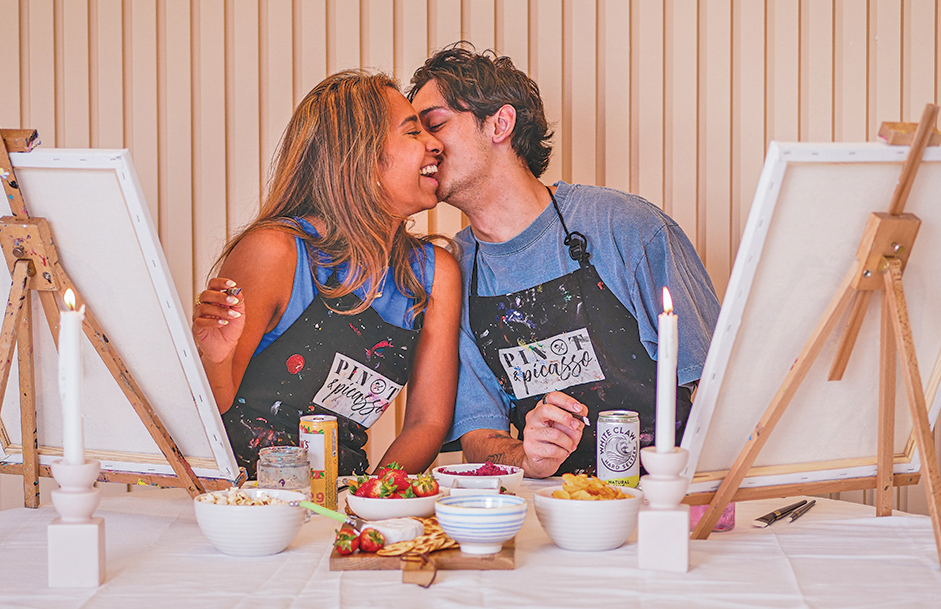 Big Swing Golf
Drummond Golf is not only your one-stop-shop for all high quality golfing equipment, it's the most swingin' place in town for your next date night.
Take a swing on the Big Swing Golf virtual green and stay for some food and drinks. With a massive screen and a selection of exciting games, Big Swing Golf delivers a one-of-a-kind simulation for golfers and non-golfers alike.
Friday and Saturday nights fill up fast, so book your spot now. It's a 233 Mulgoa Road, Penrith. Call 4721 1296 or visit www.bigswinggolf.com.au/penrith.
3 Junction Thai
Celebrate your love with a wonderful feast from 3 Junction Thai.
A locally owned and run Thai restaurant for over 25 years in the heart of Penrith, it's the perfect setting for your next date night.
Dine amongst traditional Thai decor and bamboo, while njoying stir fry and curry in a covered outdoor courtyard.
3 Junction Thai is at 375 High Street, Penrith. Call 4731 5128 to book.
Penrith Mayoral Charity Ball
If you want to go all out, get yourself a pair of tickets to the upcoming Penrith Mayoral Charity Ball on Friday, May 5 at Panthers.
Hosted by Penrith City Council and raising funds for The Haven, the event will be hosted by David Campbell.
It's a black tie night with food, drinks and dancing.
Call 4732 7652 for more information, but be be quick – tickets are only on sale until Wednesday.
Riverside Bar & Dining
Looking for something to impress on your next date night?
Look no further than Riverside Bar & Dining.
This beautiful restaurant provides stunning view of the river, while treating your loved one to delicious food and cocktails.
Why not try the Date Night special? Consisting of a mouth-watering share entrée platter for two and any two signature or classic cocktails for just $30. This special is available every Thursday from 5pm.
Visit www.riversidebar.com.au or check it out at 78-88 Tench Avenue, Jamisontown.