Customers of A1 Granny Flats are becoming increasingly frustrated as they seek answers to their complaints from government agencies while they receive silence from the Penrith-based builder.
As previously covered in the Weekender last year, the company touted '12-week projects' but more and more people have been left with construction that has been abandoned and court cases on their hands.
Sheri Bain's elderly parents sold their home and engaged with A1 in November 2020 to build a home on her property in Londonderry.
"In April 2021 we contacted Council and A1 hadn't put in the correct paperwork, we finally got approval and signed contracts in June when they said it would be built in 117 days, even though it had already been six months and they didn't start until October," Bains said.
"Ever since that they would ignore us and tell lies until they stopped coming without finishing it, so now it cannot be certified, and my parents cannot move in even though they have spent $180,000."
A NSW Fair Trading spokesperson confirmed that it suspended A1 Granny Flats' contractor licence on January 25, 2023, and that it is investigating the company.
The Department of Communities and Justice (DCJ) was unable to comment on individual cases but said that the NSW Civil and Administrative Tribunal (NCAT) can resolve disputes about residential building works in NSW under the Home Building Act 1989.
"Applications must first be lodged with the NSW Fair Trading for investigation," a DCJ spokesperson said.
"NCAT endeavour to ensure a just, quick and cheap resolution to disputes and adopt a range of alternative dispute resolution processes to help parties resolve their disputes before hearings where possible."
A spokesperson from icare said it was unable to provide comment on any legal matter but the Weekender understands that home building insurance can be claimed if 'triggered' by Fair Trading or NCAT.
Bain believes that more needs to be done to assist customers left out in the cold.
"We went to Fair Trading and got a rectification order which expired December 11, 2022, that A1 ignored so our next step is to go to NCAT, but this will cost thousands of dollars and every person has to lodge an individual case which is money we don't have," she said.
"We don't understand why Fair Trading or NCAT can't bankrupt them so we can be covered with compensation but instead we have to chase them while they are free to sell or hide assets."
Jim Gobert signed a contract in February 2021 for a 100-day build which began exactly a year later, but the Valley Heights site was abandoned in July 2022.
As he navigates the process himself, he is realising the extent of the situation A1 Granny Flats has left multiple customers with.
"There is no stormwater provision, so the rainwater just rushes out and undermines the slab, there is no termite protection and none of these can be certified, so they are all illegal dwellings," Gobert said.
"If A1 isn't held responsible or claims bankruptcy does that mean outrageous amounts of money will have to be paid by taxpayers to rectify all of these issues?"
A letter at A1's closed office in Lambridge Place, Penrith says that LJ Hooker Commercial Penrith has taken possession of the premises from December 2022, indicating a potential failure to pay rent.
The number listed for A1 has also been disconnected.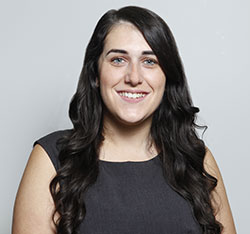 A graduate of Western Sydney University, Emily covers Local, State and Federal politics for the Weekender, as well as crime and general news.