Having never cruised before, I will admit that I may have assumed that cruise ships were full of older people playing bingo but as I found myself at a nightclub on Deck 18 at 1am that pre-conceived notion was quickly overcome.
Taking it back a step to when I was invited to board P&O's Pacific Adventure for a four-night getaway to Moreton Island, I never could have imagined how much is on offer on each level of what is essentially a floating hotel and resort.
Following over 2,600 lanyard wearing guests, I was quick to grab the first of many strawberry daiquiris and head to the sail away party where we witnessed the stunning sight of barely scraping under the Sydney Harbour Bridge.
With 21 dining options available there is a lot to try, and 400 Gradi by award-winning Melbourne chef Johnny Di Francesco was a delicious choice to load up on authentic Italian before setting out to discover all the different and stylishly designed corners of the ship, including one of the stage shows on each night.
After a peaceful sleep with the newfound sensation of being gently rocked by the ocean, we took in the vast blue view from our comfortable balcony room and then went up to the main deck to see it in all its glory.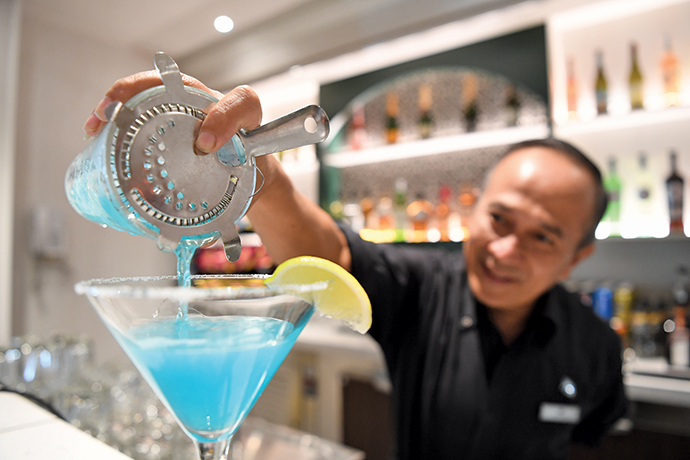 The seasoned travellers set up on their deck chairs early and it is easy to see how people can spend their whole holiday in the Oasis adults only pool area or the Magrodome family area, not to mention the dual racing waterslides which were a hit for everyone, regardless of age.
Wanting to immerse myself in the experience, I bought my bingo tickets, my lucky dabber and as I joined a full lively theatre, I discovered how fun it is thinking you are just one legs 11 away from winning a cash prize (spoiler – I didn't win).
The rest of the afternoon was spent by taking a cocktail class in a charming hole-in-the-wall bar, getting some lunch from The Pantry which has a range of cuisines in a buffet style and spending more time screaming than taking in the view as I (reluctantly) ziplined across the top of the ship, which is a must do for adrenaline seekers.
The Gatsby themed night saw as equally as many feather boas as a Harry Styles concert and it was the perfect attire to witness the very cheeky and cabaret style show – Blanc de Blanc, Uncorked!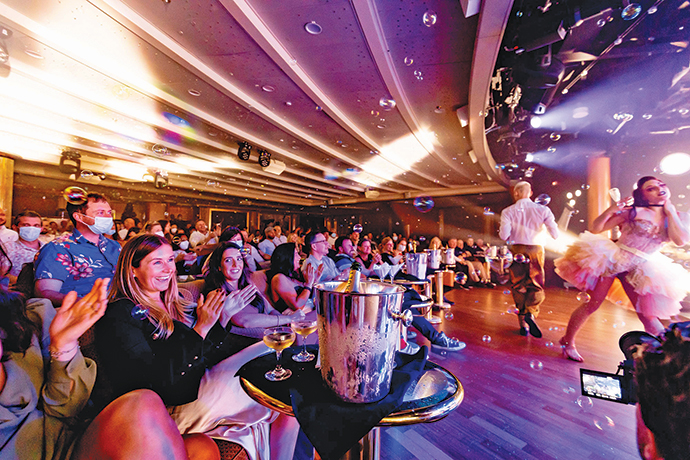 After some more delicious drinks, and a late comedy show we found ourselves at the Altitude nightclub which parties all night long but is a convenient easy walk back to your room.
Trying to fit in every session of trivia and karaoke at the Adventure hotel meant that a day of relaxation was needed which came when we had a shore day where people ventured out to Tangalooma Island Resort.
Taking advantage of a noticeably quieter ship, we spent the day at the Byron Beach Club which is a private access area for guests booking into suites.
Swimming, sunning ourselves, and playing games like connect four was perfect before we headed out to explore the island on a tender and took in the magnitude of the Pacific Adventure from the shoreline.
Our shore excursion was one we will not forget where a pod of wild dolphins came up to us in the shallows at sunset to be fed and marvelled at (and marvel I certainly did).
The white themed Bianco party was a blast, and the sea days became a blur of more bingo, listening to live music and watching groups of friends and families relaxing and enjoying the wonderful atmosphere and phenomenal service given by the 1100 members of cheerful crew.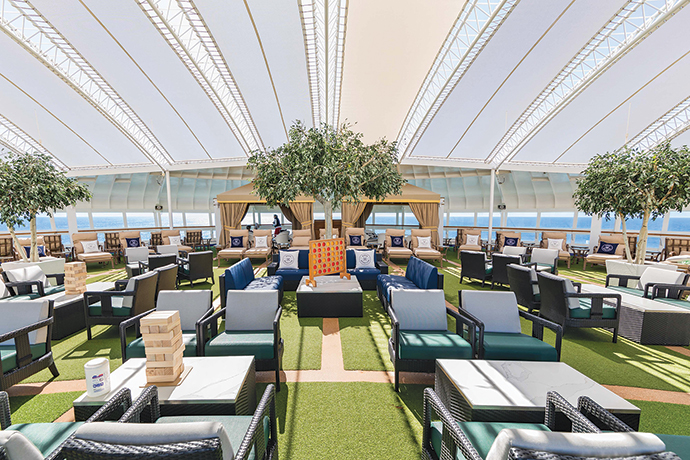 There is so much included within a cruise package with shows and complimentary restaurants but adding on a hot stone massage at the Elemis at Sea Spa and dinner at celebrity chef Luke Mangan's bar and grill will leave you wanting more.
Sitting down for a drink with P&O Cruise Director Sam Austin, he summed up why cruise ships prove to be a popular holiday choice for all generations.
"I've worked in the cruise industry for eight years and there has been a huge stigma about cruising being for old people but that is changing with adults only cruise lines, we do themed cruises and P&O did the first ever pride cruise in Australia which was insane," Austin said.
"We have a night club, loud music venues, quiet places you can sit to relax, a variety of shows with talented performers, fun activities and incredible kids centres that cater for the young ones so make sure to experience as much as you can."
With endless food, drinks and activities, if you have never hit the seas before or if you are a cruise veteran, make sure to get down the gangway of a P&O liner.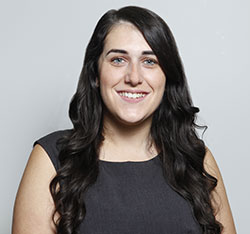 A graduate of Western Sydney University, Emily covers Local, State and Federal politics for the Weekender, as well as crime and general news.