The NSW Liberal Party is currently holding a rally in the heart of Penrith as the race for one of the state's most crucial seats goes down to the wire.
Penrith is held by the Liberal Party's Stuart Ayres by just 0.6 per cent. The Coalition must hold it if it is any chance of retaining government next Saturday.
It is no surprise that Penrith's Joan Sutherland Centre has been chosen for this morning's Western Sydney Rally as the party attempts to leave no stone unturned to win the seat.
Last month, Labor's Chris Minns also held an election rally at the same venue.
Ayres was first to speak at this morning's rally, taking to the stage with chants of "Stuart, Stuart, Stuart".
He spoke about Penrith's unemployment rate, which has dropped from seven per cent to three since Ayres won the seat in 2010, and about Nepean High School, which he said Labor did not adequately set up as a performing arts high school before leaving government. He said the Liberal Party then delivered the required funding.
Not surprisingly, infrastructure was a key message – particularly the major upgrade to Nepean Hospital and work associated with the new airport.
"We're going to be Australia's newest gateway to the world, and we know how important local infrastructure is," he said.
"We're making sure that the new international airport is actually connected to western Sydney and we don't just export all of that economic benefit back to the east.
"The only thing Chris Minns is offering us in western Sydney when it comes to infrastructure is cancel, cancel, cancel.
"It's not because they don't care, it's because they don't understand western Sydney."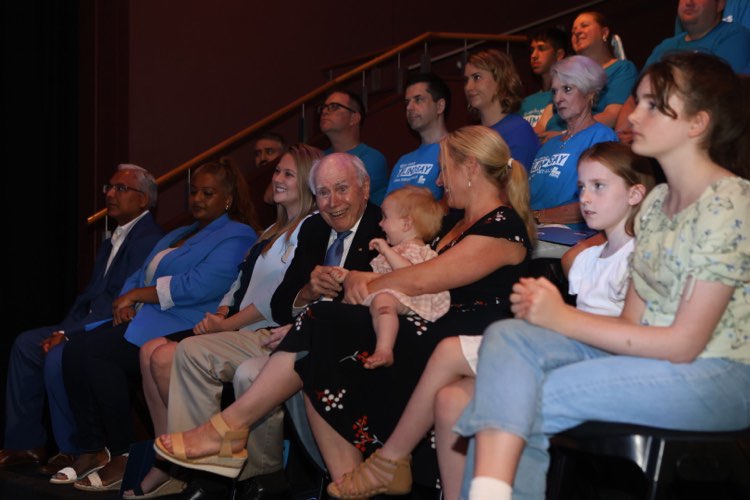 Liberal Candidate for Badgerys Creek also spoke at the event, saying Labor would take western Sydney backwards if elected.
"Western Sydney is critical to the future of New South Wales, but it goes beyond that because western Sydney is critical to the strength of Australia as a whole," she said.
"Western Sydney is in a once-in-a-lifetime transformation and that is only happening because we have a Liberal-Nationals government at the helm in New South Wales."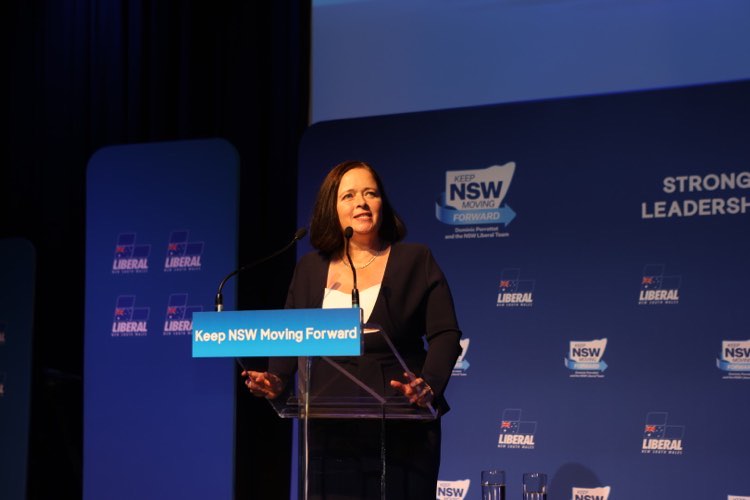 Former Prime Minister John Howard, who was also in Penrith on Friday to support Ayres, then took to the stage to introduce Premier Dominic Perrottet.
"It's really nice to be back in Penrith," he said.
"I have quite a soft spot for Penrith. Being here takes me back to the evening of March 2, 1996 when the then Labor Federal Government was consigned to history.
"Of the many thrilling moments that night, none was greater than to see a swing of 14 to 15 per cent to the seat of Lindsay which for the first time in history took Penrith the surrounding areas into the Liberal fold.
"As I walked through the shopping centre with Stuart Ayres on Friday, I was reminded just what an aspirational part of the world and what an aspirational part of Sydney, Penrith really is."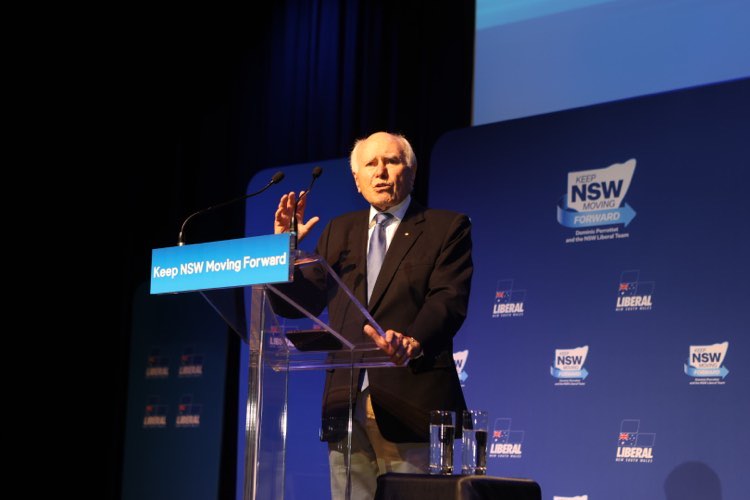 Howard said he had "faith" in the Liberal Party and "believed strongly" in Premier Perrottet.
"Premier Perrottet has plenty of ideas and very strong values," he said.
"I admire the strength he has displayed on poker machine reform. Some people can afford to gamble but some people can't, and this is an area that screamed aloud for courage and at long last we have found a political leader… to do something about it.
"I admire the vision he has displayed on economic policy."
Perrottet took to the stage and declared "when western Sydney is going well, New South Wales is going well".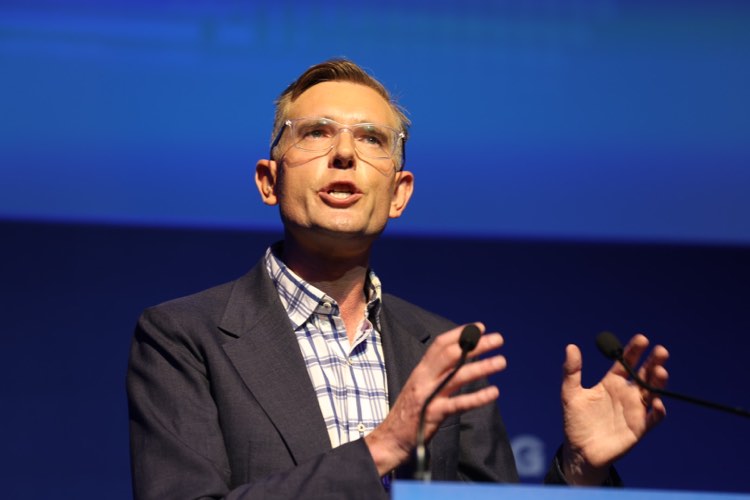 The Premier praises Ayres and Davies for their work in advocating for Nepean Hospital, and said the Government was undertaking the biggest school building plan since federation.
"I say to the people of western Sydney: our government stands with you," he said.
He confirmed that the Liberals would make public transport cheaper by reducing the weekly travel cap to $40 from May and provided an overview of the party's policies that had previously been announced.
"We have a plan, and I can say that all of this is at risk under Labor. Under Labor, you and your family will pay more," he said.
"Because Labor can't manage their Budget, they come after your money."
While the Liberals were in Penrith, Labor Leader Chris Minns was also in western Sydney – holding a campaign rally in Parramatta.
He said New South Wales faced a "fork in the road" at the election.
"Down one branch lies further neglect of our nurses, midwives, paramedics and teachers, and more privatisation," he said.
"Down the other lies a fresh start. A chance to invest in training, conditions, and pay for our essential workers.
"The chance to end privatisation in NSW once and for all. We've got six days to decide which path this great state takes.
"We've got six days to ensure we pay respect to the nurses, midwives, paramedics, and teachers who got us all through the dark days of the Covid pandemic.
"We've got six days to ensure we protect Sydney Water and Hunter Water from the economic vandalism of the privatisation auction block.
"We've got six days to choose a fresh start for New South Wales."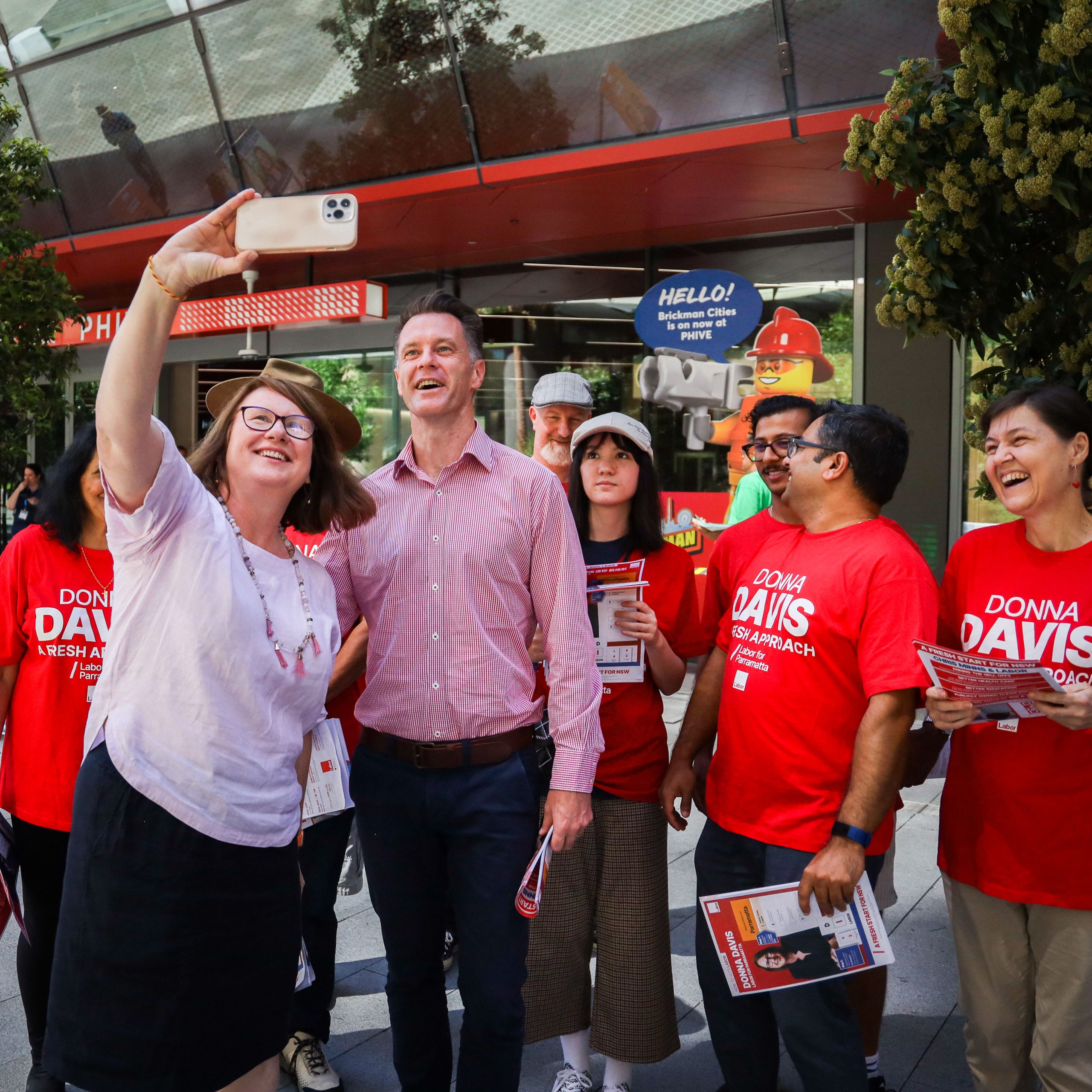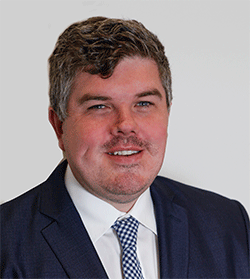 Troy Dodds is the Weekender's Managing Editor and Breaking News Reporter. He has more than 20 years experience as a journalist, working with some of Australia's leading media organisations. In 2023, he was named Editor of the Year at the Mumbrella Publish Awards.