There's no doubt that the 2022 NRL season was a massive one for the Penrith Panthers. According to choreographer Kati Manning, it was equally as monumental for the Pantherettes.
"Last year was absolutely fantastic. We had an incredible season, topped off with a back-to-back Grand Final win," she said.
"The NRL was taken to Queensland in 2021, so no one got to live it. To be physically there at the Grand Final in 2022 and have that entire stadium roaring and screaming for the Panthers was absolutely sensational. The girls and I had an absolute ball."
One of the cheerleaders who performed in last year's Grand Final is 24-year-old Emma Bayliss, who said that the atmosphere was "something else".
"Being in the Finals and being able to be there in person was so different and so exciting, because we definitely missed out on quite a lot over the past two years," she said.
"We think about being there in person every season, but to actually experience it was insane."
Bayliss will be returning for her sixth season with the Pantherettes this year, joined by 15 fresh faces, welcomed to the squad after their auditions in January. One of this year's rookies is Jasmine Salas, who, having been unsuccessful in her audition in 2022, was ecstatic to hear her name announced as part of this year's team.
"I wasn't expecting to get in, so when they called my name, I was completely surprised," she said.
"Last time I got to exactly where they pick the team, and that's where I got cut, so this year, making it in was a total shock, but I'm so grateful."
Just a few weeks into pre-season training, the 20-year-old said she's already loving being a Pantherette, and can't wait to be out on the field for the first time.
"I'm so glad I came back, because I love it so much," she said.
"It's such a good team to be a part of, and the girls are lovely. It's a really nice environment to be in to be dancing again."
In addition to some new faces on the team, the Pantherettes also have a new sponsor this year, in Atmosphere Fitness.
"Atmosphere Fitness is such a great gym and club in the Penrith area, which offers such amazing facilities," Manning said.
"To have a fitness company come on board to support the Pantherettes is absolutely fantastic, because the girls do need to be fit and athletic to keep up with game day routines and keep up with training, and look after themselves physically, mentally and nutritionally."
And it seems there might be even more surprises from the Pantherettes this year as the Panthers work to achieve a historic hat-trick of NRL premierships, said Manning.
"I don't want to give away too much, but there's lots of new things for the Pantherettes in 2023," she told the Weekender.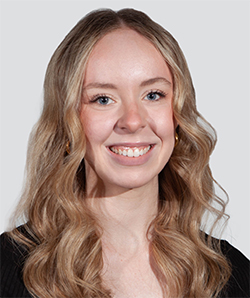 Cassidy Pearce is a news and entertainment journalist with The Western Weekender. A graduate of the University of Technology Sydney, she has previously worked with Good Morning Macarthur and joined the Weekender in 2022.