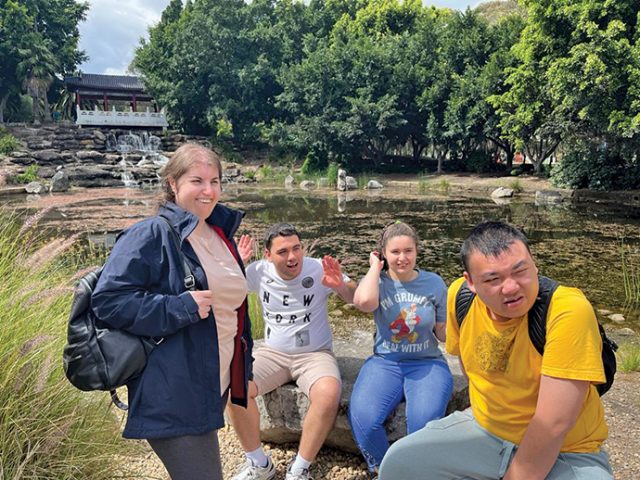 For over 70 years, Sunnyfield Disability Services has strived to enrich the lives of people with disability by creating choice, opportunity and skills for life. Now, with their newest hub in Kemps Creek, they're continuing to do just that.
Sunnyfield is a registered NDIS provider that works to enrich the lives of people with intellectual disability.
Service Manager for Sunnyfield's Kemps Creek Hub, Donna Byrne, recalls joining the team with the goal of making a difference.
Now, having worked at Sunnyfield for 15 years, she said she's been able to do just that.
"With hand on heart I can say that I love getting up every morning and coming into the Hub at Kemps Creek and being greeted by so many wonderful clients," she said.
"We laugh, sing and share a wonderful space together."
At the Kemps Creek Hub, Byrne said the staff pride themselves on their commitment to the people they support, as well as providing them opportunities to thrive through a variety of programs and services.

"We're really proud of the services we have available in the area for people with disability, and connecting with our local communities to ensure clients feel included, engaged and can take part in recreational activities, social opportunities, and develop life skills is a key driver of our service delivery," she said.
The range of programs offered is one of Sunnyfield's biggest assets, with activities including sport, music, cooking, community outings, life skills lessons, and a sensory room being just some of those designed to meet the goals, skills, abilities and aspirations of the clients they support.
In total, Sunnyfield delivers 2000 support services for people with disability across NSW and the ACT each day.
Standing out amongst other providers, Sunnyfield can't be beat when it comes to delivering person centred, active support to people with disability, as well as those around them.
"We offer an amazing service to not only the people we support, but to their wider network of families, friends and carers," Byrne said.
"Clients accessing any Sunnyfield service will develop and grow friendships, build life skills, gain independence and be fully supported to live a life of their choosing."
Visit www.sunnyfield.org.au/locations.