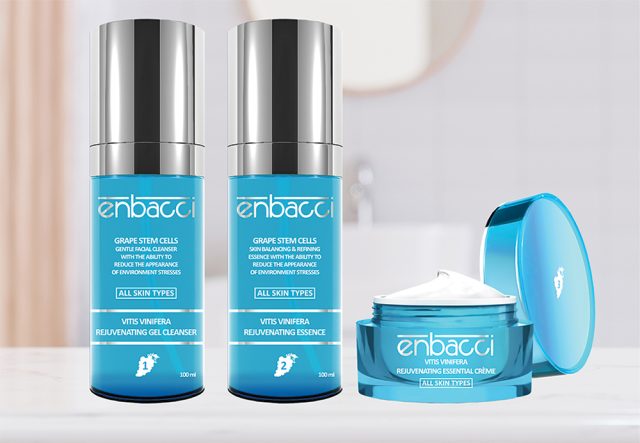 The Vitis Vinifera Rejuvenating 3-Step System by luxury skincare brand, Enbacci, harnesses the antioxidant benefits of lab-engineered grape stem cells to protect skin from free radical damage and combat the physical signs of premature ageing, including fine lines, wrinkles, texture, and pigmentation.
Cultivated from the meristems of the Gamay Teinturier Fréaux, a French genus of grape, this celebrated botanical is rich in phytonutrients, including polyphenols, peptides and proanthocyanidins; and contains the cellular benefits of kinetin, a 'super-antioxidant', which is purported to protect human skin cells from oxidative stress and stimulate the synthesis of regenerative enzymes.
Containing a foaming gel cleanser, soothing facial mist, and nourishing moisturising crème, the innovative formula is enriched with green tea, witch hazel, and aloe vera to soothe skin sensitivity and redness, balance sebum production, and restore hydration.
Extending epidermal cell activity and encouraging the proliferation of new, healthy skin cells, the Vitis Vinifera Rejuvenating range is ideal for all ages, genders, and skin types, and serves as an effective preventative treatment for ageing and compromised skin conditions.
To learn more, please visit www.enbacci.com.
The Weekender has four Enbacci gift packs to give away. For your chance to win one, send an email to [email protected] with 'Enbacci' in the subject line. Don't forget to include your contact details. Entries close Wednesday, December 21 and the winners will be notified by email. Terms and conditions are available here.