For many, it's not purchasing gifts that provides the most grief at Christmas – it's wrapping them. Luckily, volunteers from Our Community Cares are here to help.
Each year, Our Community Cares sets up stalls in both Westfield Penrith and Nepean Village for people to bring gifts along to be wrapped up for a gold coin donation. Now that they've officially begun for 2022, volunteer Kim Hicks said they couldn't wait for everyone to pay them a visit.
"Our days go so much faster if people come down and get their gifts wrapped!" she said.
"The donation bucket is always ready to accept more cash."
This year, the local charity is aiming to raise $50,000 to buy laser equipment for Nepean Hospital through the initiative, allowing premature babies with retinal issues to stay close to home and have the necessary operations onsite.
Ms Hicks said that after explaining their goals to visitors, the minimum amount is often out of the question.
"People are being incredibly generous – they start off making a gold coin donation, and then when we say that we're raising money for the babies, they're putting in extra or EFTPOS-ing extra," she said.
"We're incredibly grateful and encouraged by people's support."
By getting gifts wrapped by Our Community Cares' elves, you're not only supporting a charitable organisation, but also guaranteeing beautifully wrapped presents under the tree.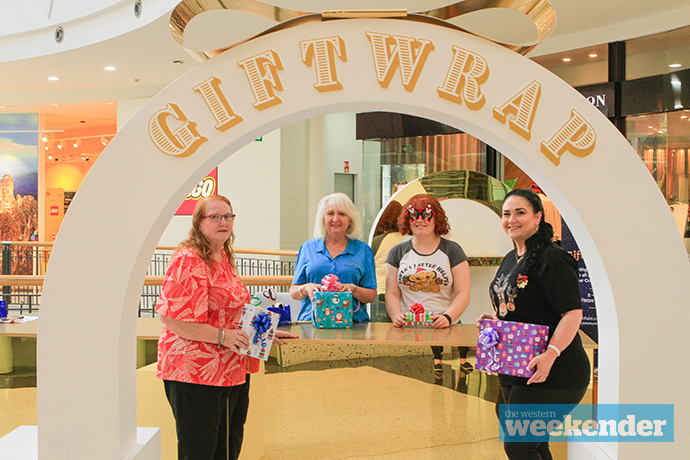 "People say that they're bad wrappers and that we do such a great job," she said.
"They also say they can't make their gifts look as good as ours; they love the paper, because we have beautiful double-sided wrapping paper that gives them a lot of choices!"
Ms Hicks notes it can also be a real time-saver during what is an extremely busy period for many.
"People bring a trolley in in the morning, drop it off, and pick it up in the afternoon when they're going home, and all they have to do is put it under the tree," she said.
And, there's no limit to what they can do.
"We'll pretty much do anything and everything," she said.
"One of the big things that we did last year was wrap a 1m tall plush dinosaur, and that was a bit of a challenge – definitely a two-person job – but we pretty much give everything our best shot!"
With the team set to finish off the festive season without their fearless leader, Kris Gauci, to whom they send their love and best wishes, Ms Hicks is putting a call out to expert gift wrappers who could provide an extra set of hands.
"We've lost a couple of volunteers in the last week due to health and accidents, so we would really love some volunteers," she said.
"You only have to work four-hour shifts – morning, afternoon or night. Any help would be much appreciated!"
Our Community Cares will be wrapping gifts at Westfield and Nepean Village every day until Christmas Eve.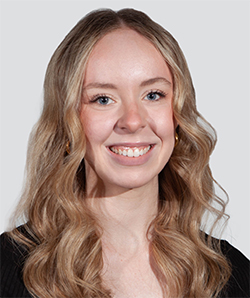 Cassidy Pearce is a news and entertainment journalist with The Western Weekender. A graduate of the University of Technology Sydney, she has previously worked with Good Morning Macarthur and joined the Weekender in 2022.