A month-long search for a missing dog has brought the Penrith community together but a twist could take it in another direction.
Local resident Shayne Winfield has been searching high and low after his 15-month-old Golden Retriever named Bailey got washed down the Nepean River on November 17.
"My partner Heidi was walking Bailey and let him off the lead as he loves swimming in the river, but he went to a different spot and chased some ducks in," Mr Winfield said.
"She wasn't alarmed as he is a strong swimmer and kept walking but when she turned around, she couldn't see him, and a man fishing said he had gone over the weir."
Dreading that he may have drowned; the pair didn't lose hope and searched up and down both sides of the river every day and did letterbox drops.
They narrowed down possible sightings to a parcel of land behind the Regatta Centre on Old Castlereagh Road.
"The Penrith Lakes Development Corporation were great giving us access and letting us search as we heard barking, but the land is so vast, by the time you get there it stops," he said.
"There were other signs that we think could have been him like different prints and bundles of feathers, but the ground is now too dry, and all of the other signs went cold."
Sharing the search online, it garnered attention from community members who wanted to help.
"The local people who have seen my posts and flyers have been so helpful coming to look for him and we have had four people put up drones, one used a thermal scope, and some have been out walking to look for him," Mr Winfield said.
"I drive a truck for a living, and I see the worst of people around Sydney with inconsiderate behaviour on the road so to see this response from a local community is really touching."
Suggested by some of the volunteers and desperate for any new information, Mr Winfield was connected with two independent mediums who gave eerily similar recounts.
"They both believe Bailey is alive and was picked up by a young man who drives a dark blue or black dual cab 4WD who has a dog of his own that found him in a secluded area of the Nepean River upstream from where he went missing," he said.
"The person had good intentions but has now become attached and is keeping Bailey in a house in Emu Plains with the word 'Walker' and the number five coming through, as well as a triangle associated with the house.
"I understand how crazy his sounds, but I am determined to get our boy back so am looking into it and offering a $500 reward for his return."
Anyone who spots Bailey or with more information about his whereabouts can contact [email protected] or call us on 4722 2998. Information can be kept anonymous.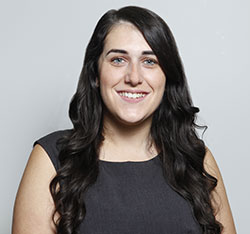 A graduate of Western Sydney University, Emily covers Local, State and Federal politics for the Weekender, as well as crime and general news.