Following her long-awaited residency at Penrith Regional Gallery, Emu Plains artist Susan Oxenham has created an exhibition like no other, with sound and texture front of mind.
Having known of Ms Oxenham's four-decade long relationship with the Gallery, Visual Arts Director Toby Chapman became determined to work with her in a more curatorial way, following last year's launch of her annual calendar.
Her exhibition not only takes on her own personal style, but draws inspiration from her surroundings.
"We were really committed and interested in working with Susan as an exhibiting artist, and with her existing aesthetic and interests, we thought it would be a really interesting idea if we encouraged Susan to produce a body of work that responded directly to the garden, both in terms of the materiality of it, and the experiences of navigating the space," Mr Chapman said.
Given that Ms Oxenham is legally blind, her experience of the heritage garden is different to most, drawing her to expand on her craft for the exhibition.
In addition to her signature cane paintings, Ms Oxenham's exhibition has a focus on the non-visual ways that we can engage with our surroundings, and includes an ambient soundtrack that was produced by detecting the slight electrical variations in plants via electrodes placed on leaves.
It was when she was creating this music that the name of the exhibition came to her.
"Sitting there with my micro cassette recorder while scooping water from the pond with tadpoles in it, I realised that kind of joy only happens in those quiet moments in nature when you are soaking it up and that's where the title came to me — 'Soaking up the Senses'!", she said.
When working on her pieces for the exhibition, including two quite large and dynamic artworks up to three metres in width, Ms Oxenham relied on touch to know when she's happy with the finished product.
"If there is a gap in the paint and something doesn't feel quite right, maybe it's not meant to be that way. As long as you can feel, you've got it!" she said.
"You have to sometimes keep playing with things until it works and yet it's so simple."
Mr Chapman hopes that the exhibition will inspire others, to help with his aim to reinvigorate the program at Penrith Regional Gallery so that local talent is front and centre.
"What I would really hope is that other artists in the local community can see Susan's work and read about her experience working with us, and ideally be able to imagine themselves in her place," he said.
"There's that saying that you can only do what you can see, and I appreciate the irony for Susan, but I think she's been able to illustrate a way for the gallery to collaborate with artists on a local level."
'Soaking Up the Senses' will be open until Thursday, November 24.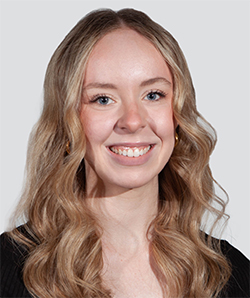 Cassidy Pearce is a news and entertainment journalist with The Western Weekender. A graduate of the University of Technology Sydney, she has previously worked with Good Morning Macarthur and joined the Weekender in 2022.