Using water and electricity is something households do every day but as the cost-of-living increases, opening the bills each quarter can begin to sting.
Experts from Penrith company Hix Group have shared tips with the Weekender on what people can to do to keep their costs down.
Australian Competition and Consumer Commission (ACCC) Chair Gina Cass-Gottlieb told an Economic Committee before the House of Representatives that energy bills have lifted by an average of $300 since April.
Alinta Energy Chief Executive Jeff Dimmery has also predicted a rise of another 35 per cent by next year.
Hix Group Electrical Division Manager Paul Humphreys said small changes like changing to LED lighting and switching appliances off at power points "will all add up".
"Newer styles of ducted air conditioning are quite efficient but something as simple as utilising blinds or using fans to stop using your big cooling system will drive the price down," Mr Humphreys said.
"The government is continually introducing solar rebates, but I would stress people engage a reputable supplier and people who already have solar should be considering batteries."
An understanding of what electricity plan you are on can also help you adopt habits which will save money like using power in off peak times and Mr Humphreys says consumers shouldn't be afraid to "shop around for a better deal".
Ensuring air conditioners are running efficiently can also prevent them from using more electricity.
"Regularly cleaning filters is something most people can do because if you have blocked filters, you will have less air flow and it has to work harder," Electrical Field Supervisor Nathan Powlay said.
"General maintenance, so getting air cons professionally serviced helps and some older models are not very efficient, but you need to weigh up the cost of getting a new system which is the same with other appliances."
While limiting showers might be hard, Hix Plumbing Field Supervisor Dylan Cottrell said there is a range of ways to save water.
"On fixtures like showerheads there is the WELS (Water Efficiency Labelling and Standards) system, so you are aiming for more stars which means less litres coming out," Mr Cottrell said.
"Using a dishwasher instead of washing dishes by hand can reduce water usage by 10 litres per day and using the eco mode on a washing machine compared to the normal mode can save an average family 3.7 kilolitres per year."
Getting a plumber to repair any leaks and checking on the condition of water systems can reduce the risk of paying for more water.
"If you have natural gas service connected to your house installing an instantaneous water heater means it heats as you need it but one that constantly heats up can often lose four litres a day," he said.
"Checking toilets to see if the valves have worn along with flexi-hoses under vanities or the pressure temperature relief valve could stop unwanted leakage."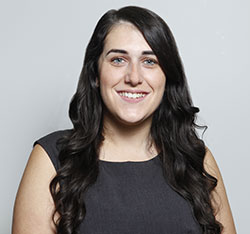 A graduate of Western Sydney University, Emily covers Local, State and Federal politics for the Weekender, as well as crime and general news.