Penrith's 28-12 win over the Eels in the 2022 Grand Final will never be forgotten. There's the five key moments that decided the big one:
11th minute: Crichton gets avalanche underway
Having dominated the opening stages, Penrith are desperate to get on the board. The chance comes in the 11th minute when Stephen Crichton scores yet another Grand Final try – beginning a strong point-scoring period of the game for Penrith. After some good lead-up work from Isaah Yeo and Nathan Cleary, eventual Clive Churchill Medal winner Dylan Edwards gets the ball 30 metres out. He starts moving to the right, spots Crichton on his left and slips him the ball. Critter slips straight through the Eels defence and goes on a 25 metre run to open the scoring, leaving Clint Gutherson in his wake.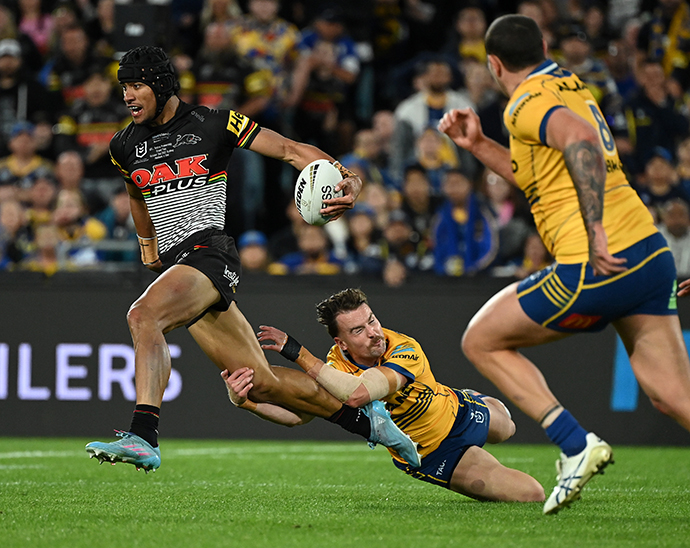 47th minute: Bunker's big call
The lottery of obstruction in rugby league rears its head in the 47th minute, when The Bunker clears a Brian To'o try much to the despair of Parramatta players and fans. Referee Ashley Klein initially awards the try, despite Clint Gutherson and Mitch Moses pleading with him to send it upstairs as no try. Replays reveal an incident involving Viliame Kikau and Mitch Moses, with some believing Moses was denied an opportunity to defend by Kikau, who ran through the line as a decoy. The Bunker looks at the incident but eventually clears it. "The ball is caught on the outside. Viliame Kikau is through the gap, Mitchell Moses then elects to grab around his waist, which makes it a defensive decision." In the end, it was a judgement call – but a big one in Penrith's favour.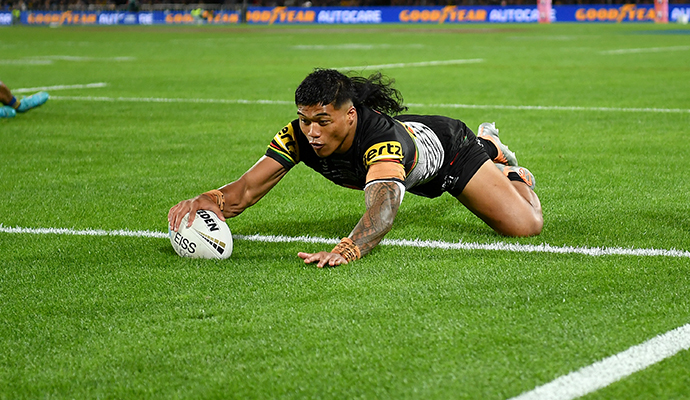 55th minute: Sivo spills his lollies
Desperate to get back into game, a crucial period begins with a try-saving tackle from Penrith centre Stephen Crichton. Maika Sivo gets the ball for Parramatta and appears destined to score – as he has done so often before. Sivo steps inside Nathan Cleary and Dylan Edwards and can only see the line in front of him – but Crichton produces a stunning tackle from behind that dislodges the ball – robbing the Eels of a chance to reduce the margin.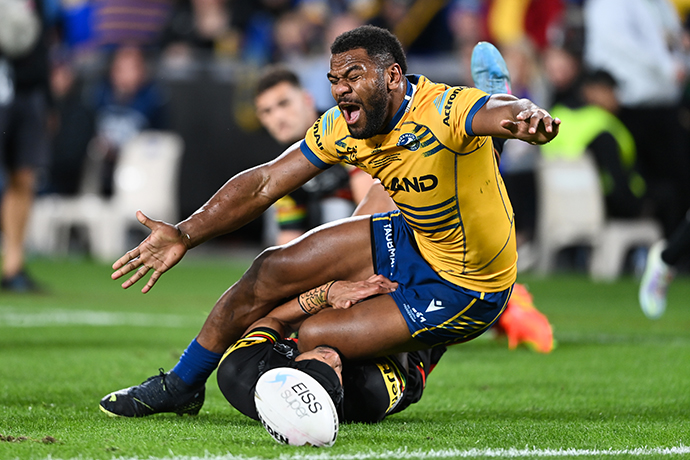 57th minute: Edwards' try-saver
Penrith are attacking Parramatta's line, up 22-0 with 23 minutes on the clock. Waqa Blake defuses a Cleary bomb and Parramatta, knowing time is against them, start chancing their arm. Reed Mahoney puts through a little kick for Bailey Simonsson, who sets off down field. He seems destined to score, out-pacing Api Koroisau and Charlie Staines and heading down the western touchline. Dylan Edwards has rushed across field and brings Simonsson down and into touch with a brilliant cover tackle. It is a crucial moment – not only does it stop a certain Parramatta try, but the Panthers score again soon after.
59th minute: Staines seals it
Up 22-0 and with time running out for the Eels, the Panthers again attack the line knowing that one more try would seal the Grand Final. Isaah Yeo makes some solid yards on the fourth tackle, forcing the Eels' defence to retreat. He gets a sneaky offload away to Cleary who after a quick dummy is able to release the ball to Dylan Edwards. From from his incredible try-saving tackle just a set earlier, Edwards draws the defence and then gets the ball away to Charlie Staines, who wrong-foots Clint Gutherson and crashes over for his first Grand Final try. It puts Penrith up 28-0.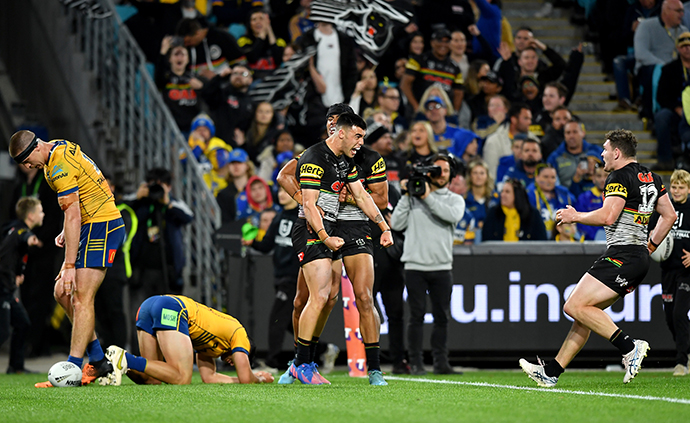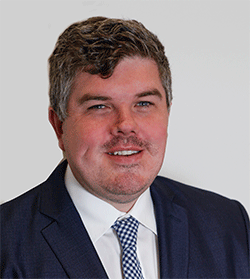 Troy Dodds is the Weekender's Managing Editor and Breaking News Reporter. He has more than 20 years experience as a journalist, working with some of Australia's leading media organisations. In 2023, he was named Editor of the Year at the Mumbrella Publish Awards.