A community organisation is inviting blokes to pull up a seat to create meaningful conversations and relationships, overcoming the stigma that "men don't talk".
The Men's Table initiative has recently made its way to Penrith and is looking for more males to take part.
Member Eric Balinghasay, who is a part of the central office known as The Kitchen and is helping activate the local Table, said the concept is simple.
"A group of up to 12 men meet at the same time every month, at the same place and have dinner together to share about their lives, whether it is celebrating the highs, to share a laugh or to talk about the lows and challenges they are facing," Mr Balinghasay said.
"There are fundamentals or guidelines to help the discussion such as things being confidential to make sure there is a level of openness, and no toxic masculinity behaviour."
Started in 2011 by David Pointon and Ben Hughes, the registered charity now has around 1000 members and close to 80 Tables around the country.
While you don't need to be going through any challenges to join, the group provides support for men that can be often overlooked.
"We know that men have a greater challenge in terms of not only having open conversations but actually reaching out and starting new friendships at any age," he said.
"Out of every 10 suicides, seven of those are men so there is clearly a need for more support and our tagline is we don't just talk about "footy and sh*t" because men often connect by sports and drinking but don't have deeper conversations that they would like to have."
Each Table is free to join, and men only pay for their own meal.
The Men's Table welcomes males from different backgrounds and walks of life.
"Our youngest member is about 21-years-old and our oldest is about 92 but the majority fall around the 40 to 60 age group," he said.
"We are very inclusive and have men who are married that live with their families, as well as single men, those in relationships or who live alone and LGBTQ men that attend."
Identifying a gap in western Sydney, Mr Balinghasay said introductory dinners known as an Entrée have recently been held to attract potential members.
"We had an Entrée at Penrith RSL and from there eight men formed the first Penrith Table, but they are still accepting more members," he said.
Men that are interested in joining the local initiative can call 1800 636 782, email [email protected] or visit www.themenstable.org online.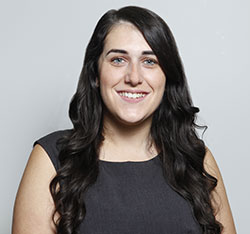 A graduate of Western Sydney University, Emily covers Local, State and Federal politics for the Weekender, as well as crime and general news.