Penrith City Councillor Kevin Crameri has shared with the Weekender how going to a doctor earlier this year possibly saved his life.
The 76-year-old wants to spread awareness on getting checked as he confirmed he has been battling lung cancer.
Cr Crameri said it was his role on Council that lead to him discovering he was unwell.
"I had been under a specialist for the last few years for fibrosis, which is hardening of the lungs, but in November last year I wasn't going to bother going back," Cr Crameri revealed.
"I then decided I would stand for Council again, so I did get tested and everything was good but six months later I went back for one more x-ray, and it picked up a spot on my right lung."
Just 10 days after being diagnosed, he started chemotherapy and radiotherapy treatment for small cell carcinoma at Nepean Cancer Care Centre with the support of his wife.
"I wasn't really surprised as I could feel something in that area, which felt strange, which is probably why I decided to go back for one more scan," he said.
"My blood count was a little low during chemo but unlike most people who get that metallic taste and lose their appetite, I went the other way and wanted to eat every custard tart I saw. I have so much admiration for the dedicated staff who have looked after me."
The independent Councillor has been going through the process quietly while still representing the North Ward and attending Council meetings.
"I have lost a little lung function and the brain fog has been the worst part of chemotherapy, and I have to sort of let my brain connect to my body before I walk," he said.
"There were issues that I needed to get sorted for the community and I wasn't going to let it get ruined by staying home, so you just push through."
While he is not out of the woods yet, Cr Crameri said the treatment seems to be doing its job.
"The spot on the lung has reduced from 23 millimetres to eight millimetres and what is there now could just be scar tissue," he said.
"I have two weeks of radiation in November, and I won't know until I go back in December but the fact that it hasn't spread and has reduced is as good as you can hope for."
Cr Crameri now encourages others to speak to their doctor if they think something is wrong.
"If I had done nothing, I was told I would have been dead within three months, so it is lucky I did go," he said.
"I would urge anybody that has the feeling that something isn't quite right to just get it checked out."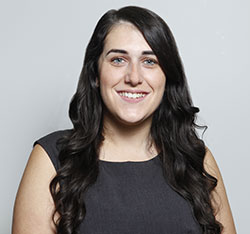 A graduate of Western Sydney University, Emily covers Local, State and Federal politics for the Weekender, as well as crime and general news.