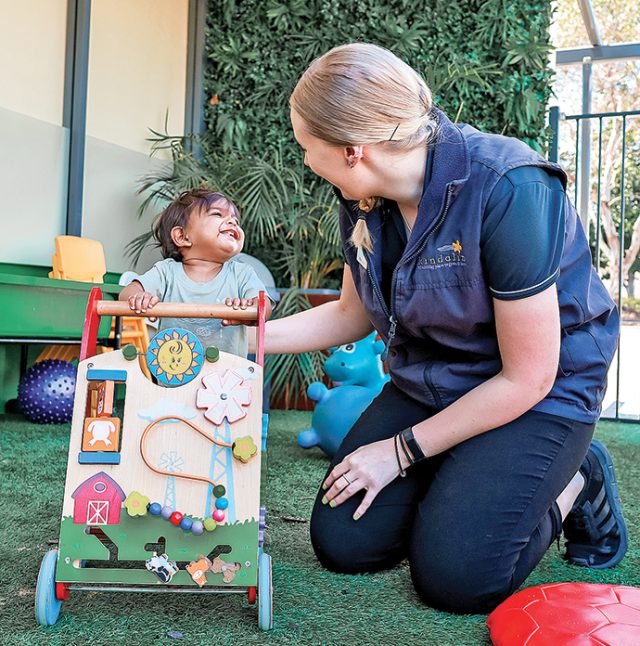 For over 30 years, Kindalin Early Childhood Learning Centres has surveyed thousands of families from the Hills District to help shape and refine its services.
The one thing that always comes back is the excitement for the dedicated and enthusiastic staff who personally bring the 'Kindalin Vision' to life each day.
"Our staff are our Heart and Soul," describes owner and founder Alison Wharton.
"They make us the exciting place to grow and learn we promise to be".
The childcare industry in NSW is growing. The importance of quality educational care has been recognised, with many landmark studies showing the improved quality of life outcomes for children into their adult lives.
"It's such a fulfilling career," said Melissa Laverty, Director at Kindalin Glenhaven.
"We play all day because that's how children learn, it's fun, but we're also very mindful and focused because we know we're shaping the minds of the next generation".
Kindalin is a fixture in the Hills District. Every day, professionals come together to make the magic come alive for countless boys and girls in the community. Teaching them resilience, tenacity, and curiosity is the Kindalin hallmark.
It's not just children who are learning. The workplace culture within Kindalin is one of constant learning and personal development. It's a supportive and inclusive place with room to grow, on-the-job training and long-term job security with plentiful opportunities for advancement.
It's a challenging job, but it's deeply satisfying to be a part of something like Kindalin. Delivering bold promises takes a special kind of person, so Kindalin is always looking for new people. School-leavers can set off on a lifelong career path. Mature-age workers can shine too.
"Many of our most coveted team members came to us after having a family of their own," Melissa said.
The flexibility of the role makes it a perfect fit for many lifestyles. It's never too late to start; before you realise it, you've been to university and earned your Bachelor of Education.
Kindalin Early Childhood Centres are currently taking applications for the 2023 Traineeship Program. Earn your Cert. III with no out-of-pocket expenses upon completion with Kindalin.
For further information, visit www.kindalin.com.au/trainees.