Samantha Jarnet's whole world stopped when she was diagnosed with breast cancer three years ago at just 38-years-old.
The Penrith mother of four is an advocate for mental health support as part of a cancer care plan and credits McGrath Breast Care Nurse Sarah Maguire for saving her life.
During Breast Cancer Awareness Month this October, people are encouraged to donate to support the goal of funding 250 McGrath Breast Care Nurses by 2025.
This comes as new research commissioned by the McGrath Foundation reveals that one in five people around the country will miss out on the vital support of a dedicated breast care nurse this year.
After having intermittent shooting pain in her left breast, Ms Jarnet got it checked out and was diagnosed with triple negative breast cancer.
Requiring immediate treatment, Ms Jarnet said the mental toll of the chemotherapy process affected her more mentally than physically.
"I struggled knowing that not all triple negative breast cancer patients respond to chemo… and if mine didn't, there weren't many options left for me," Ms Jarnet said.
"The weeks that followed were the hardest of my life. My mental health was rapidly declining. I wasn't coping with my reality, especially the fears and uncertainties and I needed help."
10 days into her treatment and having a breakdown, Ms Jarnet spoke to Ms Maguire for support.
"She calmed me down, reassured my husband and got in contact with a psychiatrist who was able to help me. She had it done on the spot, exactly when I needed it," she said.
"It's hard for me to speak of now, but Sarah without a doubt saved my life. I considered ending my life that day and she pulled me from that."
Ms Maguire said she had never come across someone in that much distress before.
"I think that Samantha was just overwhelmed with being young and having breast cancer and thinking that she could die – especially being a mother," Ms Maguire said.
"I can't even imagine what it would have been like to be that distressed, she was absolutely hysterical."
Data from the Australian Institute of Health and Welfare estimates that more than 20,000 people are expected to be diagnosed with breast cancer in 2022.
With the rate rising, the role of McGrath Breast Care Nurses is even more crucial.
"I'd say most of my role is dealing with patients' anxieties and getting them through their diagnoses and getting them confident in their decision making," Ms Maguire said.
"We have about 400 new patients this year, and then you've still got last year's patients who are still going through treatment, and then there are still patients who are in contact and need support years down the track."
To donate, visit www.mcgrathfoundation.com.au.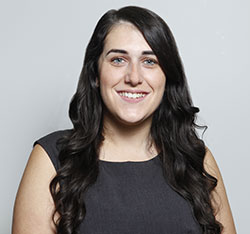 A graduate of Western Sydney University, Emily covers Local, State and Federal politics for the Weekender, as well as crime and general news.