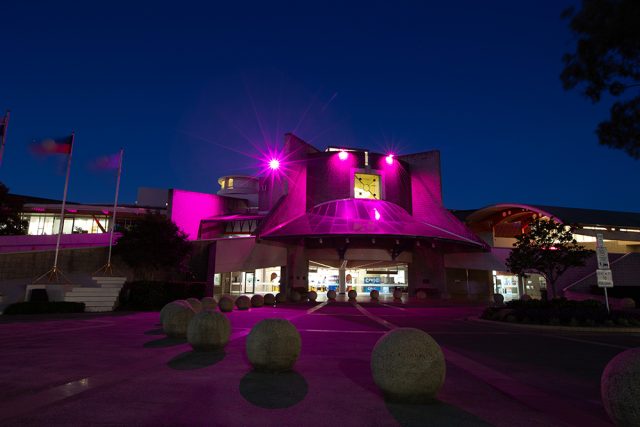 The Penrith Civic Centre will turn pink every night for the rest of October in support of Pink Up Penrith.
For the fifth consecutive year, Penrith City Council is shining a light on this important campaign during Breast Cancer Awareness Month. This is to raise awareness and funds to support people with breast cancer and to provide specialist McGrath Breast Care Nurses where they are needed most across Australia.
Penrith Mayor Tricia Hitchen said Penrith was the first metropolitan city to join the McGrath Foundation's campaign by going pink in support of Breast Cancer Awareness Month. Council's proud to once again switch on the Civic Centre's pink lights to spark important conversations in the community.
"Sadly, more than 20,000 women and 212 men in Australia will be diagnosed with breast cancer this year – we need to do everything we can to support the people whose lives are impacted," Cr Hitchen said.
"Having the Civic Centre awash with pink shows our support for Pink Up Penrith and the wonderful work of the McGrath Foundation as they continue to bring much-needed access to specialist healthcare closer to home.
"Thank you to all other businesses and organisations across the Penrith Local Government Area who are also 'pinking up' their part of the City in support of this great cause."
The McGrath Foundation currently funds 185 McGrath Breast Care Nurses in Australia and has a goal of funding 250 McGrath Breast Care Nurses by 2025.
It costs around $140,000 to fund a full-time McGrath Breast Care Nurse for a year, including training and development.
Pink Up Penrith Ambassador and President, Gai Hawthorn, said the Pink Up Penrith campaign has helped over 400 breast cancer patients locally thanks to the McGrath Foundation's local nurses.
She said Council's support brings awareness to the campaign and boosts fundraising efforts in the area.
"Thank you, Council, for caring about our community and leading the way for five years strong for Pink Up Penrith," Ms Hawthorn said.
To find out more about Pink Up Penrith and to donate, visit pinkuppenrith.com.au.